Butternut Squash Ravioli Recipe
Make Squash Ravioli With Sage and Hazelnut Brown Butter Sauce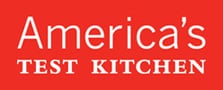 We've got a new partnership with the recipe, equipment, and product testing gurus at America's Test Kitchen; they'll be sharing some of their time-tested recipes and technical expertise with us. Today, America's Test Kitchen shares pasta-filling tips — and a recipe for squash ravioli — just in time for National Ravioli Day.
March 20 is National Ravioli Day—and what better way to celebrate than making your own filled pasta from scratch? With some patience, handwork, and a tasty filling, you can easily produce homemade ravioli in your own kitchen. Read on for our Test Kitchen tips for making and cooking ravioli; then, use your newfound knowledge when making our Squash Ravioli with Sage and Hazelnut Brown Butter Sauce. Our recipe features a multitude of flavors—squashy, sweet, savory, buttery, herbal, and nutty—that work together to create complexity. Plus, the contrasting textures of silky filling and crunchy nuts is truly irresistible.
Dos and Don'ts for Ravioli Fillings
For the best results, a filling must be spoonable (not liquefied) so that it can be mounded onto the pasta sheets. It also should be fine-textured so that it won't cause tears in the pasta (and can be used in small amounts), and be relatively low in moisture so that it won't ooze when the filled pasta is cooked.
See more ravioli tips and the butternut squash ravioli recipe when you keep reading.
What Are Ideal Filling Ingredients?
Given the criteria above, our recommendations for filling ingredients include cooked ground meats; thick, creamy cheeses such as ricotta and mascarpone; thick purées of vegetables such as winter squash and sweet potato; and minced cooked vegetables such as mushrooms and hearty greens.
How to Cook Ravioli Without Destroying Them
Filled pastas are delicate and require special handling when cooking. Gently boiling water preserves their shape, whereas vigorously boiling water will cause ravioli to burst. And since filled pastas have thicker centers that must cook through, cooking them in batches is a good idea—this way, the temperature of the water won't drop drastically. Batch cooking also prevents overcrowding that can cause filled pasta to stick together.
Be Gentle Until the Very End
Rather than draining filled pasta into a colander, gently lift them from pot with a slotted spoon and transfer them directly to a warm bowl where they can be sauced. If the contents of the pot are dumped into a colander, all that water can break open or crush delicate filled pasta.
More stories from America's Test Kitchen:
Fluffy yellow layer cake: 6 fixes for common mistakes
Squash Ravioli with Sage and Hazelnut Brown Butter Sauce
Notes
Why This Recipe Works: The butternut squash must first be cooked to drive off excess moisture and render it soft and velvety; we use a microwave to expedite and simplify the squash-cooking process. Grated Parmesan cheese in the filling not only adds flavor, it also acts as a binder that holds the filling together. The browned butter sauce is simple, but very rich. This dish is best served in small portions either as a first course or a pasta course before the main dish.
Sliced or slivered almonds can be substituted for the hazelnuts. The Parmesan for the sauce is shaved for garnish, so purchase a chunk with a shape that will allow you to shave off nice strips with a vegetable peeler. We like Italian-made hand-operated manual pasta machines. We've tested the Imperia and Atlas pasta machines—the two major brands in Italy and widely available in cookware shops around the world—and found them equally good.
Ingredients
Fresh Pasta
2 cups (10 ounces) all-purpose flour
3 large eggs
Squash Ravioli
1 pound butternut squash (about 1/2 medium)
4 tablespoons unsalted butter
1 tablespoon brown sugar
Table salt
Whole nutmeg
2 ounces Parmesan cheese
⅛ teaspoon ground black pepper
All-purpose flour for dusting baking sheets
Hazelnut Brown Butter Sauce
8 tablespoons unsalted butter
¼ cup coarsely chopped hazelnuts (about 1 ounce)
2 tablespoons minced fresh sage leaves
Table salt
1 lemon
1 ounce Parmesan cheese
Directions
Make Dough
Pulse 2 cups flour in food processor to aerate and break up clumps so that flour evenly absorbs eggs. Add 3 eggs and process until rough dough forms, about 30 seconds. If dough resembles small pebbles, dough is too dry; add water, 1/2 teaspoon at a time and process until dough forms rough ball. If dough sticks to sides of work bowl, dough is too wet; add flour, 1 tablespoon at a time and process until dough forms rough ball. Turn dough ball and small bits out onto dry work surface. Knead by hand until dough is smooth, elastic, and homogenous, 1 to 2 minutes. Cover dough with plastic wrap and set aside for at least 15 minutes and up to 2 hours to allow gluten to relax so that dough rolls out easily.
Prepare Ingredients for Ravioli
Peel, seed, and cut 1 pound butternut squash into 1-inch chunks. Grate 2 ounces Parmesan cheese. You should have about 1 cup. Grate nutmeg to yield a pinch.
Prepare Ingredients for Sauce
Cut 8 tablespoons butter into 4 pieces. Coarsely chop hazelnuts to yield 1/4 cup. Mince sage to yield 2 tablespoons. Juice 1 lemon to yield 2 teaspoons. Shave 1 ounce Parmesan cheese with vegetable peeler.
Make Filling
Place squash in large microwave-safe bowl. Cover bowl tightly with plastic wrap and microwave on high until squash is tender and easily pierced with dinner fork, 10 to 15 minutes. Carefully remove plastic wrap (watch for scalding steam), drain squash, and transfer to food processor. Add 4 tablespoons butter, 1 tablespoon brown sugar, 1/4 teaspoon salt, and nutmeg and process until mixture is smooth, 15 to 20 seconds, scraping down sides of bowl as needed. Transfer to bowl, stir in grated Parmesan and 1/8 teaspoon pepper, and refrigerate filling until no longer warm, 15 to 25 minutes.
Roll Dough
Cut about one-sixth of dough from ball and flatten it into disk. Re-cover remaining dough with plastic wrap to prevent it from drying out. Run disk through rollers of pasta machine set to widest position. Bring ends of dough toward middle and press down to seal. Feed open side of pasta through rollers. Fold and roll dough once more. If dough is at all sticky, lightly dust it with flour. Without folding again, run pasta through widest setting twice or until dough is smooth. Roll pasta thinner by putting it through machine repeatedly, narrowing setting each time. Roll until dough is thin and satiny. After dough is rolled through narrowest setting, you should be able to see outline of your hand through pasta. Lay sheet of pasta on clean kitchen towel and cover it with damp cloth to keep it from drying out. Repeat with other pieces of dough.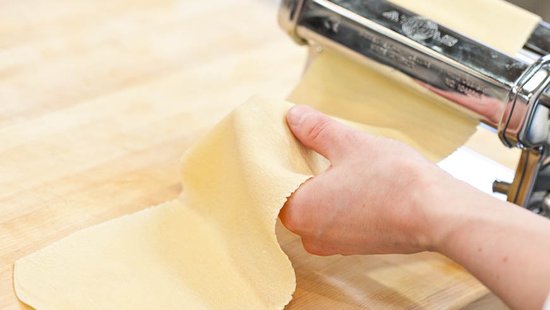 Cut Pasta Sheets
Dust 2 large rimmed baking sheets liberally with flour; set aside. Using pizza wheel or sharp knife, cut one fresh pasta sheet at a time into long rectangle measuring 4 inches across.
Fill Ravioli
Place generous 1-teaspoon dollops of filling about 1 inch from bottom edge of dough and spaced about 1 1/4 inches apart. (If edges of dough seem dry, dab with water.) Fold top of pasta over filling and press layers of dough together securely around each filling mound to seal. Use fluted pastry wheel to cut along two sides and bottom of sealed pasta sheet. Run pastry wheel between mounds of filling to cut out ravioli. Transfer ravioli to floured baking sheet, cover with damp kitchen towel, and set aside. Repeat with remaining pasta and filling.
Make Sauce
Heat butter, hazelnuts, sage and 1/4 teaspoon salt in 10-inch skillet over medium-high heat. Cook, swirling pan constantly, until butter is melted with golden brown color and nutty aroma, about 3 minutes. Off heat, stir in lemon juice; set aside.
Cook Ravioli
Bring 4 quarts water to boil in large stockpot or Dutch oven. Add 1 tablespoon salt and half of ravioli. Cook, stirring often and lowering heat if necessary to keep water at a gentle boil, until ravioli are tender, about 2 minutes (3 to 4 minutes if frozen). Using slotted spoon, transfer cooked ravioli to warm serving platter. Spoon some of butter sauce over top and cover with foil to keep warm. Return water to a boil, cook remaining ravioli, and transfer to platter. Swirl 2 tablespoons ravioli cooking water into remaining butter sauce, then pour sauce over ravioli. Top with shaved Parmesan and serve immediately.
Serves 4 to 6.
Information
Category

Pasta, Main Dishes

Cuisine

Italian