Butternut Squash Risotto Recipe
Butternut Squash Risotto With Fried Sage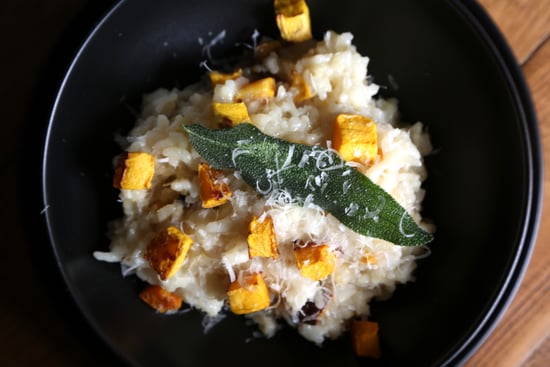 This risotto recipe looks restaurant-grade, but it couldn't be easier. The fried sage takes a matter of seconds to make, the roasted squash is a simple technique to master, and the risotto just involves stirring the pot constantly!
The result is a recipe you'll happily make throughout the cold-weather season. The recipe tastes as if it's heavy on the cream or butter, but it's the chicken broth and parmesan cheese that give the starchy arborio rice lots of body and depth.
Keep reading for the recipe.
Butternut Squash Risotto With Fried Sage
From Anna Monette Roberts, POPSUGAR Food
Ingredients
1 cup arborio rice
3 cups chicken or vegetable broth, heated
1 butternut squash, peeled and roasted
Olive oil
1 bunch sage, leaves only
1/2 cup parmesan cheese, shredded, plus more for garnish
Salt and pepper, to taste
Directions
In a medium saucepan, combine 1 cup rice with 1 1/2 cups broth. Bring to a boil over high heat. Reduce heat to medium, and stir constantly until liquid is absorbed. Add more broth in 1/2-cup increments, cooking and stirring until liquid is absorbed. Repeat with remaining broth until all is used and rice is cooked through, about 30 minutes total. Rice should have a slight bite and should not be completely mushy. Use more or less broth to achieve the right consistency. Just before risotto cooking time finishes, add most of the butternut squash to the risotto, reserving 1/3 cup of butternut squash for garnish. Stir in 1/2 cup shredded parmesan cheese.
About 10 minutes before serving the risotto, fry the sage leaves. In a small frying pan, fill with 1 inch of olive oil. Heat over medium-high heat. Fry sage leaves, three at a time for three seconds. Remove quickly and carefully with tongs. Place on a plate with a paper towel to cool and absorb extra oil. Season with salt. Set aside.
To serve, divide risotto between two bowls. Garnish with leftover butternut squash, a few sage leaves, and shredded parmesan cheese. Salt and pepper to taste.
Information
Category

Rice, Main Dishes

Cuisine

North American

Yield

2 main-dish servings

Total Time

59 minutes, 59 seconds