Buying and Preparing Plums
In Season: Plums
Unlike certain foods — tomatoes, watermelon, and corn, to name a few — plums are a fruit I forget. That is, until I spot them at the farmers market each Summer, and find myself gobbling one up on the spot, dribbling juice and all. In that moment, I've suddenly become a born-again plum fanatic.
Although plums originated in China, their popularity spread quickly to other parts of the world like Japan, where they were further cultivated, and America, which saw its first plums in the late 1800s. Today, there are over 2,000 varieties of the stone fruit, although 95 percent of the plums in the United States come from Central California. Learn what to do with all those amazing drupes when you read more.
Plum season runs from May to September, although California's crop is running a few weeks behind this year, thanks to a cold Spring. Although the drupes range in figure from round to heart-shaped and color from yellow to dark purple, be sure to always avoid plums with shriveled skin, soft brown spots, and choose those that give to a little pressure — an indicator that they're ripe. (While a brown paper bag can help ripen things along, already-picked plums don't ripen easily or increase much in sweetness). Remove the pit by cutting the fruit in half lengthwise, twisting gently in opposite directions, then pulling out the seed.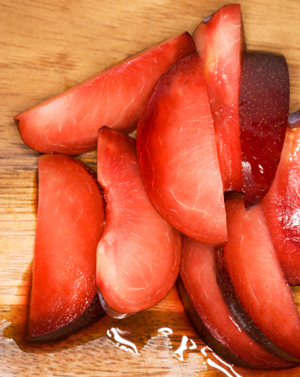 The fruit's sweetness makes for a natural fit during dessert, but plums also fare well in other courses. A few serving suggestions that range from savory to sweet:
What do you do with plums?