CSA Box
5 Questions to Ask Before Joining a CSA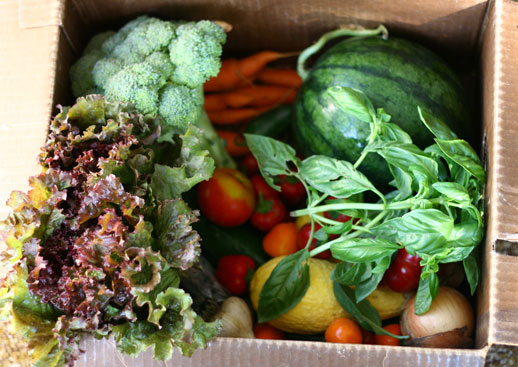 Considering jumping on the ultrafresh food bandwagon? Joining a CSA might be the way to go. Community Supported Agriculture (CSA) is a great option for city-dwellers who want to connect with the source of their produce. Instead of picking and choosing veggies at a farmers market, you're essentially backing a local farm's budget and receiving what is seasonally ripe and available. It's an awesome way to support local farms and make sure they prosper in years to come. But before committing to a CSA in your hood, it's integral to know the facts and figure out what makes sense for you. To learn the right questions you should ask, read on.
What kind of CSA works for your lifestyle?
You've got to pick a program that fits you. For city-dwellers, a subscription or farmer-driven CSA is typically the way to go. Other options like a consumer-driven CSA require more time and more commitment. If you're simply looking to enjoy some of the freshest produce possible, a subscription is the way to go. With that said, if you're looking to get out there and work the land, more power to you!
Do you love cooking seasonally?
You've got to be honest with yourself here. This is a very different experience than running to your grocery store for produce or selecting a few of your favorite fresh goodies from the farmers market. If you don't cook seasonally, this will initially take some getting used to.
Do you understand the shared risk?
Things happen. The idea that "we're all in this together" is part of what connects CSA subscribers to their farm source. But it's a bit of a gamble. Crops fail or can be damaged by weather, etc. It's a wonderful idea to ask your farmer for references. If the CSA has a group of loyal members, chances are you're in great company.
Have I asked my farmer the right questions?
Before you sign up, go straight to the source. Talking to the farmer is part of the beauty of the whole thing. How long have they been a CSA? How long have they been farming? How much produce should I expect weekly? Do I need to pick it up at a site or will it be dropped off? Get the facts so you can make an educated decision and shop around accordingly.
Are you prepared to get seriously creative in the kitchen?
You may receive a box overflowing with your favorite fruit, and other weeks you may not recognize a thing. It's all part of the fun; you'll broaden your horizons and get those creative juices flowing. Many people love their CSA because it's taught them to let loose from their planned recipes and allow the ingredients to serve as inspiration.
What do you think? Have you been considering a CSA subscription? Are you a loyal subscriber with tips? Comment below!
Source: Flickr User erin.kkr