Campbell's Soups Get a Face-Lift in Packaging, Nutrition
Campbell's Soups Take on a New Point of View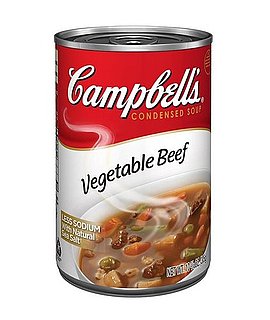 If it's been a while since you've cracked open a can of Campbell's, its makers are hoping that this will be the year to change that. Today, the soup company announced it would be making some improvements both inside and outside of the brand's iconic red-and-white soup can.
Come August, the soup will be ditching its signature labels in favor of a more contemporary look that's focused on food photography. But perhaps it's learned a lesson from Tropicana's recent repackaging fiasco, because the three core soups — chicken noodle, cream of mushroom, and tomato — will retain their classic red-and-white labels.
The soups themselves will also get a face-lift. The company has cut sodium in 23 of its condensed soups by 45 percent, to contain 480 milligrams of sodium or less per serving. It's also launching a campaign to highlight its vegetables, such as carrots, celery, potatoes, and tomatoes, grown in the US. Chicken soups will include a new type of roasted chicken.
I'm always skeptical of canned soup, but I still look forward to giving Campbell's Soup 2.0 a chance. Will you?