Campo Viejo Rioja Gran Reserva 2004
Wine of the Day: 2004 Campo Viejo Rioja Gran Reserva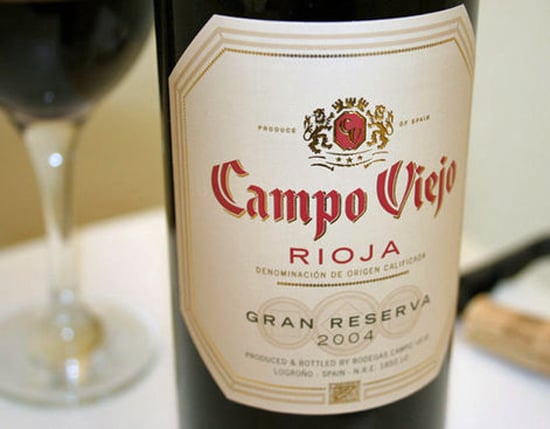 We tried a Tempranillo Rosé earlier in our wine month, but it was time to try a real vino rojo de España, which is why we uncorked the Campo Viejo Rioja Gran Reserva 2004 ($25). Spanish winery Campo Viejo is old indeed and has been around La Rioja, a province in northern Spain, since 1959.
The prestigious-looking bottle caught our eye with its wire netting and regal label, and we quickly learned more about it: this particular bottle contains 85 percent Tempranillo, the indigenous grape of the area. And although Tempranillo translates to "early," because the grape ripens before other red grape varietals, our bottle was aged eight years and in oak barrels for 24 months.
The wine poured brick red and opaque, with a strong woodsy bouquet that filled the room upon opening. Fruits of the Summer like cherry and blueberry hit the nose. It was big and masculine, with high tannins, and after that wash of berries, the wine finished heavy with flavors of cigars and toast that lingered on the palate. Intended to be a slow-sipping wine to savor with fatty, rich foods, the Gran Reserva would be best enjoyed with rich Spanish tapas, stinky cheeses, and grilled red meats.