Candy Corn Oreos
Taste Test: Candy Corn Oreos and M&M's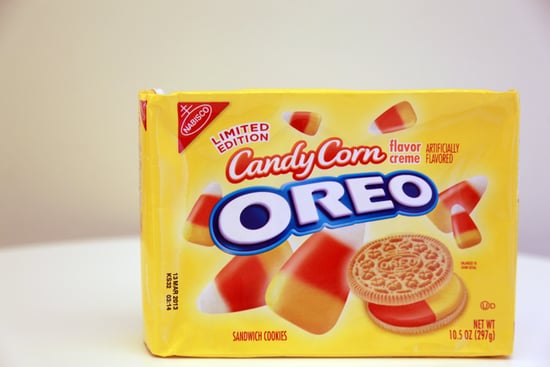 The flavors of Fall always have us (and our taste buds) waiting in anticipation of its arrival. And now that Fall is finally here, so too are seasonal flavors and new combinations of traditional favorites. Take candy corn — the sweet treat making its debut in more than our candy dish this Fall! Mixing with treats like Oreos and M&Ms, we couldn't wait to kick-start the season and try these food fusions for ourselves!
Check out our reviews and see if these combinations live up to the hype!
M&Ms Candy Corn White Chocolate Candies
The promise: While the information is not available on M&M's website and the candies are exclusive to Walmart, the packaging itself says it all. The red M&M is smugly decked out in his Halloween ensemble as candy corn, ready for the spotlight. It's no mystery to candy lovers, that these two delicious candies are making a special appearance together — after all, it was only a matter of time. On the packaging, tasters are promised a combination of white chocolate M&M's and their favorite Halloween candy. The illustrations alone assure a hit!
What our tasters thought: With this treat, personal preference took center stage, though everyone could agree that this candy is extremely sweet! While only one taster felt that this combination actually made candy corn worse, many loved the fun play on texture found in this candy. The crunchy, white chocolate shell and soft center made for a nice union of two classics. One tester even considered this "the baby" of white chocolate and candy corn.
Tasters' rating average:

Candy Corn Oreos
The promise: Available exclusively to Target, this cookie is thought to bring the flavor of the popular seasonal candy to America's favorite cookie. Oreo shed its usual chocolate cookie for a vanilla biscuit and added color to its usually all-white center. Resembling a perfect harmony between the two, these cookies surely look like a foodie's dream.
What our tasters thought: Oreo traded its signature black-and-white coloring for a cookie that looks like candy corn, but doesn't taste like candy corn! To the disappointment of many, these cookies tasted more like a vanilla sandwich instead of the seasonal candy. Although all our tasters thought this "sweet" cookie sandwich was yummy, it only received an average score of three, leading us to believe that these two will only remain a couple until the end of October.
Tasters' rating average:

Photos: Anna Monette Roberts