Caprese Salad Recipe
Get the Ultimate Caprese Salad With One Simple Tip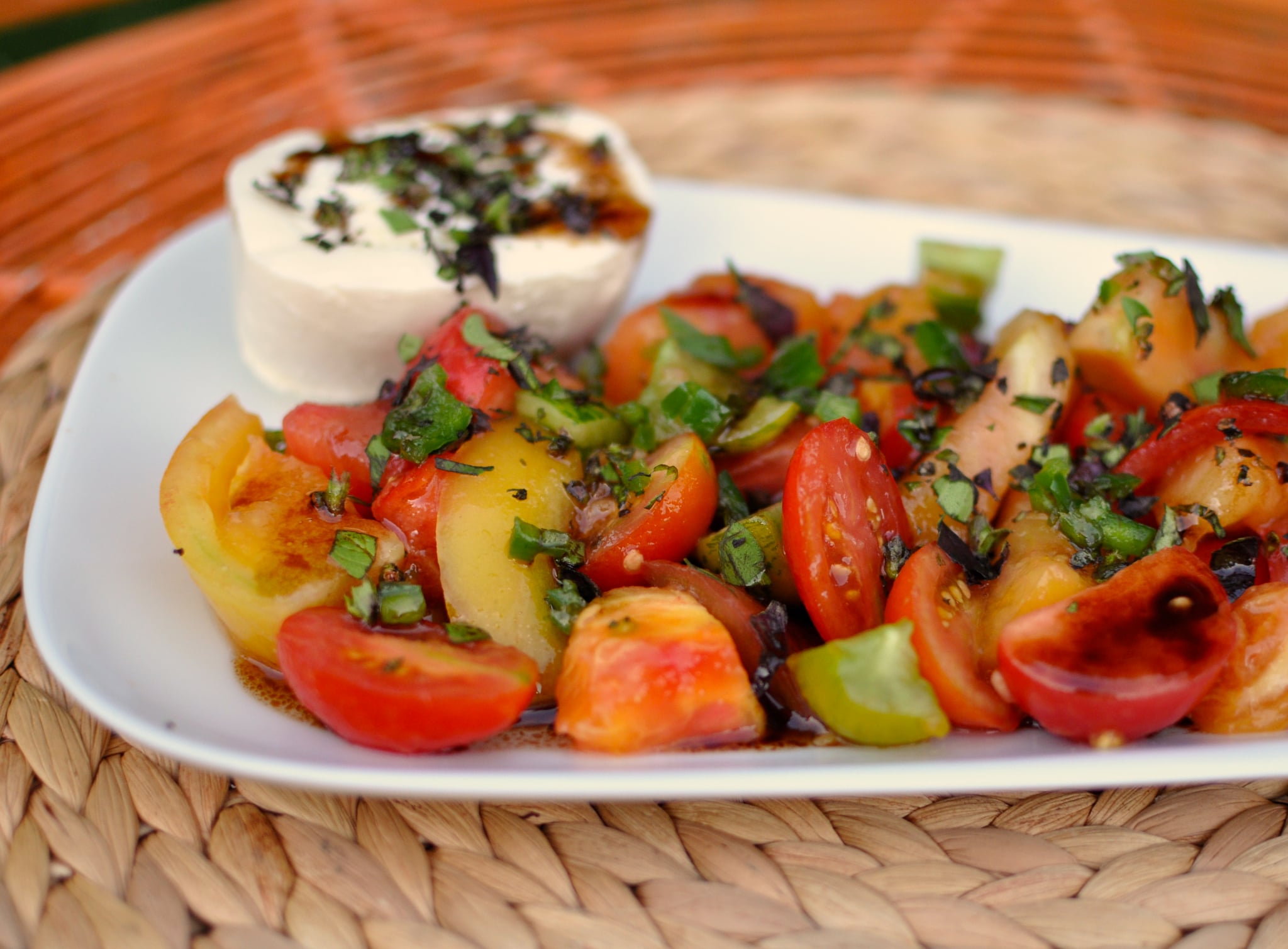 The caprese salad, with its fresh tomatoes, mozzarella, and basil, is a simple Summer dish. I must admit I thought my standard caprese recipe didn't need any improvement, but on a recent episode of Jamie Oliver at Home, Chef Oliver suggested generously salting and straining the tomatoes to improve the flavor intensity for the ultimate caprese salad. While I have often salted veggies to remove excess water, I hadn't ever thought to use the same technique on tomatoes. I was a little apprehensive about the tip but had to give it a try!
I sliced up a basket full of fresh tomatoes, placed them in my colander, and salted away. After 20 minutes, the tomatoes had lost a fair amount of water, and with that most of the salt as well. The result was just as Jamie Oliver promised: a more intense tomato flavor that wasn't overly salted. Of course, assembling a caprese with these flavorful tomatoes, burrata mozzarella and a variety of basil fresh from my garden was a piece of cake. I can't wait to use the same technique for my next batch of bruschetta — or even a simple garden salad. Don't be scared of a little extra salt to bring out even more flavor; keep reading for the recipe.
Ingredients
2 pounds mixed ripe tomatoes, different shapes and colors
2 teaspoons sea salt
1 teaspoon freshly ground black pepper
2 tablespoons red wine or balsamic vinegar
6 tablespoons extra-virgin olive oil
1 teaspoon red chile flakes
1/2 cup basil, different varieties if available, finely chopped
1 ball of burrata mozzarella
Directions
Slice the tomatoes into bite-size pieces and place in a colander either in the sink or a larger bowl. Season the tomatoes with salt and gently stir to ensure they are completely covered. Set aside for 20 minutes or so.
To prepare the dressing, whisk together the vinegar, olive oil, and red chile flakes.
Plate the tomatoes with mozzarella, drizzle the dressing over the top, and sprinkle the basil.
Serves 4-6 people.
Information
Category

Vegetables, Salads

Cuisine

North American