Caramel Apple Sundae Recipe
Come Party With Me: Apples to Apples — Dessert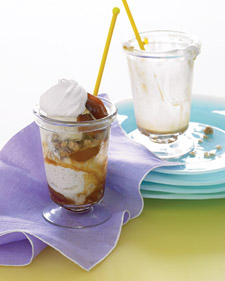 FabSugar and I are totally obsessed with the card game Apples to Apples. We love it so much that we're gathering an intimate group to play the game. Fab's providing the party space and I'm in charge of the cuisine. The savory menu features apples and the dessert is no different. I'm making these caramelized apple sundaes. They're a delightful combination of caramelized apple wedges, cinnamon ice cream, pecan-oat crumble, and whipped cream. How amazing does that sound?! After we play the game, I'll invite everyone into the kitchen to help assemble the sundaes. It's the perfect sweet finish to what's sure to be a successful event. To check out the recipe,
.
Ingredients
For the caramelized apples
3 Granny Smith apples, peeled and cored, each cut into 12 wedges
1 1/2 tablespoons fresh lemon juice
3 ounces (6 tablespoons) unsalted butter
2 1/4 cups sugar
1/8 teaspoon salt
3 tablespoons Calvados
1/2 cup heavy cream
For assembly
1 cup heavy cream
Directions
Make the apples: Toss apples with lemon juice in a large bowl, and let stand.
Melt butter in a large skillet over medium heat. Add sugar, and stir until sugar dissolves and mixture is dark amber, about 15 minutes.
Stir in apples, their juices, and the salt. Reduce heat to medium-low, and cook, stirring occasionally, until apples are softened, about 10 minutes.
Stir in Calvados and cream. Transfer apple mixture to a bowl.
Prepare an ice-water bath. Set the bowl in the bath, and let apple mixture cool, stirring occasionally, until mixture is cold and sauce has thickened, about 20 minutes. Use immediately (or refrigerate overnight).
To assemble: Whisk cream to medium peaks. For each serving, place 2 caramelized apple wedges in a sundae glass. Top with a scoop of cinnamon ice cream, 2 caramelized apple wedges, and some pecan-oat crumble. Repeat ice cream, apple, and crumble layers. Top with whipped cream.
Serves 6.
Information
Category

Desserts, Ice cream

Cuisine

North American