Caramel Apples Two Ways — Beginner and Expert Not only are they appropriate for Fall, but caramel apples make the perfect Halloween treat. Add a festive touch by rolling them in nuts or black and orange sprinkles.
Since we should all enjoy this tasty treat, I've found two recipes for you to choose from. The first is simple enough to make with kids because it uses store bought caramels.
For a slightly more challenging but fantastically frightful treat, the second recipe uses spun sugar to create a cobweb effect. Then it garnishes the apples with plastic critters.
To select a recipe and make this nostalgic dessert,
.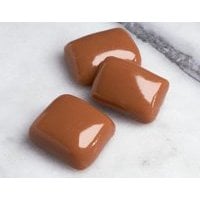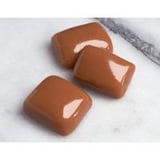 Ingredients
6 apples
6 Craft sticks
1 (14 ounce) package individually wrapped caramels, unwrapped
2 tablespoons milk
Directions
Remove the stem from each apple and press a craft stick into the top.
Butter a baking sheet.
Place caramels and milk in a microwave safe bowl and microwave for 2 minutes, stirring once. Allow to cool briefly.
Roll each apple quickly in caramel sauce until well coated. Place on prepared sheet to set.
Makes 6 apples.
Information
Category

Fruit, Desserts

Cuisine

Other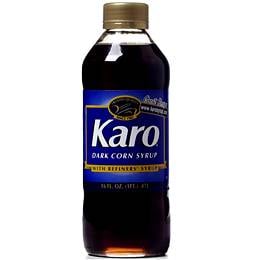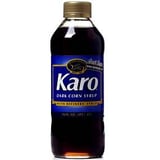 Ingredients
6 medium McIntosh apples, washed and stemmed
2 cups heavy cream
2 cups sugar
1/4 cup unsalted butter
1/2 cup dark corn syrup
Spun Sugar
2 cups sugar
1/2 cup water
1/2 teaspoon corn syrup
Directions
Cover the work space with parchment paper and the floor with newspaper.
Line a baking sheet with parchment paper; set aside.
Prepare an ice-water bath.
Insert one 6-inch-long 1/4-inch dowel into the top of each apple.
Place cream, sugar, butter, and corn syrup in a heavy-bottomed saucepan, and bring to a boil over medium heat. Continue cooking until the temperature registers 245 degrees on a candy thermometer, 10 to 12 minutes. Remove from heat, and briefly plunge the saucepan into ice water to stop the caramel from cooking.
Dip one apple into the caramel, and coat the top and sides with caramel using a spoon. Transfer to prepared baking sheet to cool. Repeat with the remaining apples.
Make the spun sugar: Place the sugar, 1/2 cup water, and the corn syrup in a heavy-bottomed saucepan over low heat. Stir occasionally until sugar is dissolved. Raise heat to high, and bring mixture to a boil. Continue cooking until the temperature registers 310 degrees (hard-crack stage) on a candy thermometer. Remove from heat, and briefly plunge the saucepan into ice water bath to stop the cooking. Let stand to thicken slightly, about 1 minute. Dip a whisk or fork into the sugar syrup, and wave back and forth over an apple to draw out long, fine, threadlike strands.
Gather the ends of the strands to form a weblike shape around each apple. Repeat with remaining apples, and serve.
Makes 6 caramel apples.
Information
Category

Fruit, Desserts

Cuisine

North American