Cardoons Taste and How to Cook
In Season: Cardoons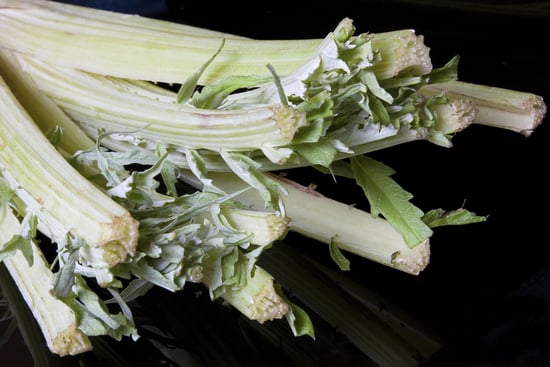 I grew up eating cardoons, or cardoni, every Spring; my grandmother would braise them, and I was always so fond of their artichokelike flavor. Because of this, I'm always surprised when people aren't familiar with the classically Italian vegetable. If you've ever come across them at the market and walked on by because you weren't sure what to do with them, think again: when cooked properly, cardoons are tender, earthy, and satisfying.
A cardoon, which is essentially a giant thistle, looks like a bunch of oversized, beat-up celery stalks. The stalks happen to be a naturally occurring form from the same species as the globe artichoke. Cardoons are typically more of a Winter vegetable, but they also grow well through May, June, and July. The Mediterranean vegetable is hard to find in grocery stores, but can be located at farmers markets.
If you're new to cooking cardoons, know that they require a bit of special care to prepare for cooking. Long fibers run down the stalks that must be removed, which can be done with a vegetable peeler. Like artichokes, cardoons turn brown when exposed to air, so you must dunk them in lemon water while you wait to cook them.
Growing up, I typically enjoyed them braised as a side dish, and they can also be cooked and pureed into a spread, breaded and fried, or even baked with béchamel sauce. Have you ever tried cardoons?