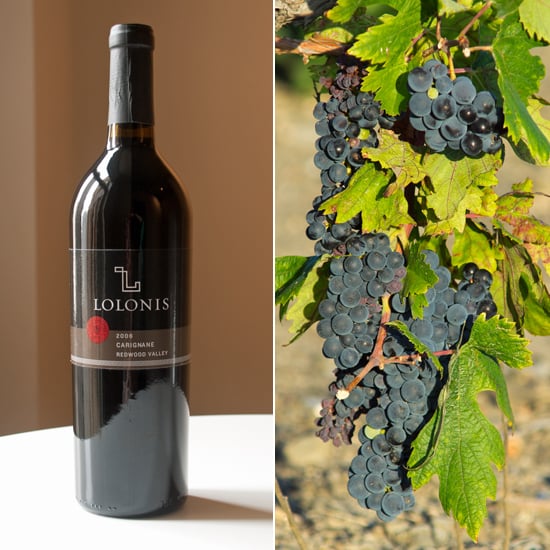 Ever since I had my first sip of Carignane (from Sonoma County's Qualia wines), I've been a woman obsessed, seeking out the light and juicy red at every opportunity. Once considered barely drinkable dreck, Carignane — also known as Carignan (France), Carignano (Italy), or Cariñena (Spain) — has recently begun to overcome its unsavory reputation, as is evidenced by its increasing prominence, and I couldn't be happier. Here's why you should care:
Originally the most planted grape in France (grown primarily in the southern Languedoc region), the grape suffered from overabundance, poor stewardship, and a quantity over quality mentality. Until recently, it was most commonly utilized in harsh, prohibitively astringent, generic vin rouge blends and garnered little respect in the wine world.
Over the past few decades, yields have dramatically decreased with about a 50 percent reduction in vine acreage, largely in part due to EU subsidies that encouraged vintners to pull up large crops of the grape, leaving behind primarily older-growth grapes. With this shift came an uptick in quality, as older vines tend to produce a more concentrated, less harsh flavor, as Carignane, like many high-yield grapes, tends to suffer from dilution of flavor.
Keep reading for more tantalizing tidbits.
Nowadays, a new generation of winemakers has embraced this temperamental red-wine grape to eye-opening effect, resulting in bottles of figgy, soft, yet highly concentrated wine that pairs well with food and is a great bargain pick (thanks largely to its only recent uptick in popularity).
Primarily grown throughout France, California's Sonoma and Central Valley, the Catalan region of Priorat, and Sardinia, Carignane is most often found in blends with Syrah, Mourvedre, or Grenache grapes, though it's increasingly available as a single-varietal offering. Our top picks? Qualia's singe-varietal offering, those from Sardinia, and bottles from Milliare in Lodi county.