 What if I told you that baking cookies would bring you a million dollars? You probably wouldn't believe me, but it's true. This past weekend 100 finalists — all amateur bakers — competed in the 43rd Annual Pillsbury Bake-Off. And Carolyn Gurtz of Gaithersburg, MD brought home a million bucks for her Double-Delight Peanut Butter Cookies. The cookies are essentially peanut butter cookies with a bit of creamy peanut butter filling in the middle. They sound pretty fantastic and look simple to make. Carolyn created hers by using the Pillsbury peanut butter cookie dough, but you could follow her idea with your fave pb cookie recipe instead.
Also, I have to tell you, I think she's absolutely adorable and am thrilled she won. I managed to get a video clip of her when she was declared winner by Food Network's Sandra Lee, and her excitement is infectious.
To get the recipe and see the cute video clip,
.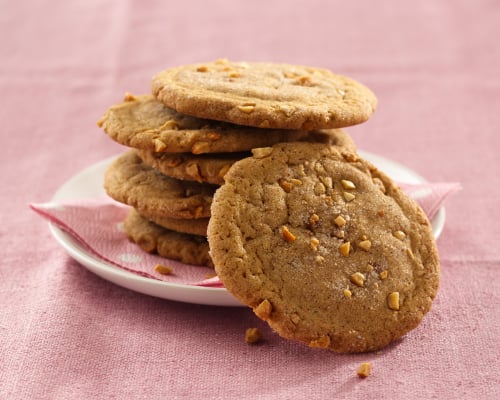 Double-Delight Peanut Butter Cookies
From Carolyn Gurtz, winner of the 43rd Annual Pillsbury Bake-Off
Ingredients
1/4 cup Fisher Dry Roasted Peanuts, finely chopped
1/4 cup Domino or C&H Granulated Sugar
1/2 teaspoon ground cinnamon
1/2 cup JIF Creamy Peanut Butter
1/2 cup Domino or C&H Confectioners Powdered Sugar
1 roll (16.5 oz) Pillsbury Create 'n Bake refrigerated peanut butter cookies, well chilled
Directions
Heat oven to 375°F. In small bowl, mix chopped peanuts, granulated sugar and cinnamon; set aside.
In another small bowl, stir peanut butter and powdered sugar until completely blended. Shape mixture into 24 (1-inch) balls.
Cut roll of cookie dough into 12 slices. Cut each slice in half crosswise to make 24 pieces; flatten slightly. Shape 1 cookie dough piece around 1 peanut butter ball, covering completely. Repeat with remaining dough and balls.
Roll each covered ball in peanut mixture; gently pat mixture completely onto balls. On ungreased large cookie sheets, place balls 2 inches apart. Spray bottom of drinking glass with Crisco Original No-Stick Cooking Spray; press into remaining peanut mixture. Flatten each ball to 1/4-inch thickness with bottom of glass. Sprinkle any remaining peanut mixture evenly on tops of cookies; gently press into dough.
Bake 7 to 12 minutes or until edges are golden brown. Cool 1 minute; remove from cookie sheets to cooling rack. Store tightly covered.
Information
Category

Desserts, Cookies