Cascal Crisp White All Natural Soda
Happy Hour: Cascal Crisp White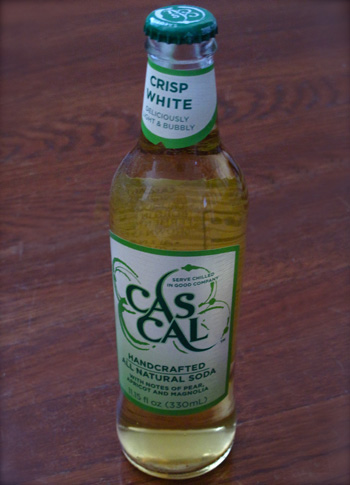 It's been a while since I've posted a happy hour drink that doesn't contain alcohol, but guess what? I've been struggling to get back up after a bout with the stomach flu, and those two things mix together about as well as oil and water.
Since liquids are about the only thing I've been ingesting anyway, I gave my not-so-mini bar a quick glance to see what alcohol-free beverages I might be able to enjoy. Staring back at me was Cascal, a new drink that's being billed as the sophisticated soda for adults.
Cascal comes in three bottles that all sound reminiscent of fine wine: Crisp White, Light Red, and Fine Dry.
I tried the Crisp White, and it fell somewhere in between a white wine spritzer and a light beer. The flavor had a distinctly floral nose and a rather interesting finish that was sweet but not syrupy in the least and a bit sour from the drink's double fermentation process. As with kombucha, an affinity for this fermented beverage takes a few sips of getting used to. But the idea of a more complex soda for adults is something I'll toast to, both in sickness and in health. Have you tried Cascal?