Catalan Fish Stew Recipe
Fast & Easy Dinner: Catalan Fish Stew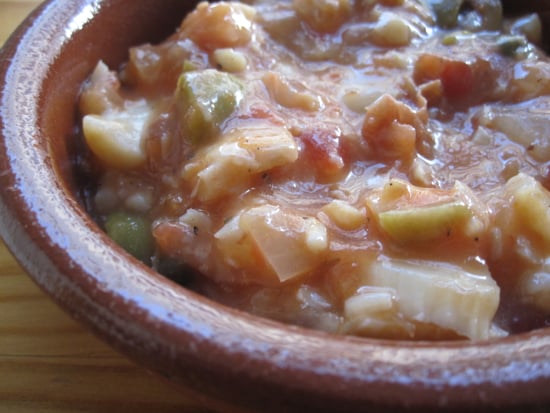 Ever since I made cioppino, I've been craving brothy, tomato-based seafood stews. When I saw a recipe for a Catalan one in a recent issue of Food & Wine magazine, I had to give it a try. Unlike most variations, which call for canned tomatoes, this one uses the pulp of fresh tomatoes. It makes for a stew that's light in texture and full in flavor. The ingredient list doesn't include capers, but I threw some in for extra salty brininess. At my local market, halibut was expensive, so the fish monger suggested I use a cheaper firm white fish. The results were superb. This is a definite must make for seafood lovers! Check out the recipe now.
Ingredients
1 1/2 pounds plum tomatoes, halved crosswise
1 tablespoon extra-virgin olive oil
1 large onion, thinly sliced
1 garlic cloves, minced
1 cup bottled clam broth
4 ounces sliced serrano ham, cut into thin strips
1/3 cup pitted green olives, chopped
1 tablespoon capers
1 1/2 pounds halibut fillet, cut into 2-inch chunks
Kosher salt
Directions
Using a box grater set in a bowl, carefully grate the cut sides of the tomatoes, stopping when you reach the skin. You should have about 2 cups of tomato pulp.
In a large, deep skillet, heat the olive oil. Add the onion and garlic and cook over moderate heat, stirring frequently, until they are softened and just beginning to brown, about 6 minutes.
Add the tomato pulp and cook over high heat until it is thickened, about 5 minutes. Add the clam broth and boil until it is reduced by half, about 5 minutes.
Add the serrano, olives, capers and halibut and simmer over moderate heat, stirring occasionally, until the fish is cooked through and the stew is thick, about 5 minutes longer.
Serve the fish stew in shallow bowls with crusty bread for dipping.
Serves 4.
Information
Category

Main Dishes, Fish

Cuisine

Spanish/Portuguese