Cauliflower, Bacon, and Pasta Recipe
Sunday Dinner: Pasta With Bacon and Cauliflower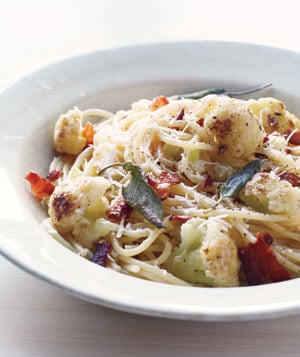 Bacon, spaghetti, and grated cheese are all massively popular in their own right, so it's no wonder that the synergy's magical when you put them together. But as crave-worthy as dishes like pasta carbonara can be, they're heavy on the meat, fat, and carbs but not much else.
Next time you're craving the killer combination, round out your meal by tossing in sautéed cauliflower, along with a few leaves of fresh sage for some earthy, herbal notes. You'll find the result more satisfying. To add creaminess and heft, stir in an egg at the end, too. Want the simple supper now? Then read on.



Ingredients
12 ounces spaghetti (3/4 box)
6 slices bacon
1/3 cup fresh sage leaves
1 small head cauliflower (about 1 1/2 pounds), cut into small florets
kosher salt and black pepper
3/4 cup grated pecorino (3 ounces)
Directions
Cook the pasta according to the package directions. Drain, reserving ¾ cup of the cooking water, and return the pasta to the pot.
Meanwhile, cook the bacon in a large skillet over medium-high heat until crisp, 6 to 8 minutes. Transfer to a paper towel-lined plate and crumble.
Add the sage to the drippings in the skillet and cook over medium heat, turning once, until crisp, 1 to 2 minutes. Transfer to the plate with the bacon.
Add the cauliflower, ¼ cup water, and ¼ teaspoon each salt and pepper to the drippings in the skillet and cook, covered, for 2 minutes.
Uncover and cook, tossing frequently, until golden and tender, 3 to 4 minutes more.
Add the reserved pasta water and ½ cup pecorino to the pasta; toss until creamy. Add the cauliflower, sage, and bacon and toss. Sprinkle with remaining pecorino.
Serves 4.
Information
Category

Pasta, Main Dishes

Cuisine

Italian