Cauliflower Steak With Pancetta
A Restaurant-Worthy Appetizer: Cauliflower Steak With Pancetta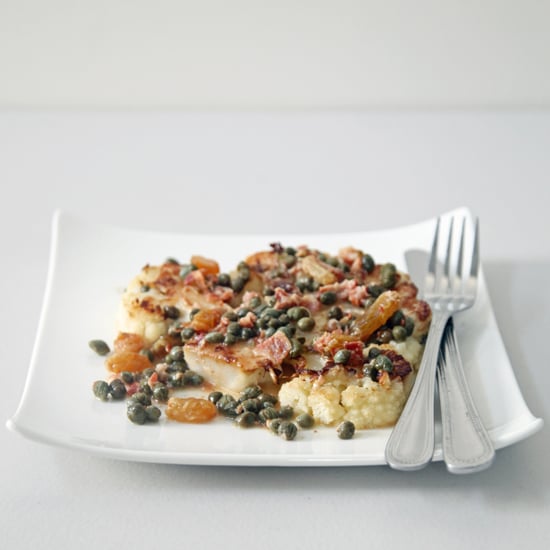 I'm all for simple, satisfying meals that get dinner on the table, but sometimes it's worth stepping up efforts to create an elevated, restaurant-style recipe at home. The key is finding a dish, like these elegant cauliflower steaks, that packs bang for its buck; there's no point to working hard for hard work's sake. Oftentimes this means stealing a technique (searing whole planks of cauliflower until mahogany brown and caramelized) rather than attempting to replicate an elaborate meal that's only practical with the aid of a kitchen full of prep cooks. Add a sauce that hits all the marks — salty (capers), savory (pancetta), sour (lemon juice), and sweet (golden raisins) — glossed with every restaurant's secret weapon (butter, lots of it), and the result is restaurant-worthy, even magical. Give the recipe a spin in your kitchen.
Notes
Don't have two 12-inch ovenproof skillets? Sear off the cauliflower steaks in two batches, then roast all four steaks on a half-sheet pan, instead of in the two skillets.
Ingredients
5 (1/4-inch-thick) slices pancetta (5 ounces), diced
1/2 cup golden raisins
3 tablespoons freshly squeezed lemon juice
2 tablespoons extra-virgin olive oil
6 tablespoons cold unsalted butter, cut into pieces
1/4 teaspoon salt
2 pinches of sugar
1 small (1 3/4 pound) head cauliflower, sliced into 4 steaks
2 tablespoons water
1/2 cup brined capers, drained
Directions
Put oven racks in upper and lower thirds of oven, and preheat oven to 350°F.
Cook pancetta in 1 dry 12-inch skillet over moderate heat, stirring occasionally, until crisp, about 10 minutes, then transfer with a slotted spoon to paper towels to drain. Pour off fat and wipe skillet clean.
Stir together raisins and lemon juice in a small bowl.
Heat 1 tablespoon oil, 1 tablespoon butter, 1/8 teaspoon salt, and a pinch each of sugar and pepper in 2 12-inch skillets over medium-high heat, swirling skillets occasionally, until butter begins to brown. Add 2 cauliflower steaks to each skillet and lightly season with salt and pepper, then cook until undersides are golden, about 4 minutes.
Transfer skillets to oven and roast cauliflower, without turning, switching position of skillets halfway through roasting, until cauliflower is just tender and undersides are golden brown, 8 to 15 minutes (depending on thickness).
While cauliflower roasts, bring water just to a boil in a 1-quart heavy saucepan over moderate heat, then stir in pancetta, capers, and raisins with lemon juice. Add remaining 1/2 stick butter, and stir until incorporated. Remove from heat, and season with pepper.
Carefully invert cauliflower steaks with a spatula onto a platter, and spoon sauce over them.
Information
Category

Vegetables, Appetizers

Cuisine

North American

Yield

Serves 4 as an appetizer