Celebrate With Fig Tapenade, Goat Cheese Amuse-Bouche New Year's Eve is an ideal time to serve simple appetizers that can withstand hours of partying. After making Roquefort and Walnut Canapés, I had leftover walnuts, so I looked for another amuse bouche that could use up the nuts.
With its easy fig and olive tapenade, this delicious bite is served on a cracker with a small dollop of goat cheese and a roasted walnut topping. The tapenade can be made three days in advance, and the whole thing is quick to assemble just before party time. Every bite is the perfect combination of sweet, salty, creamy, and crunchy. To celebrate with these appetizing hors d'oeuvres,
.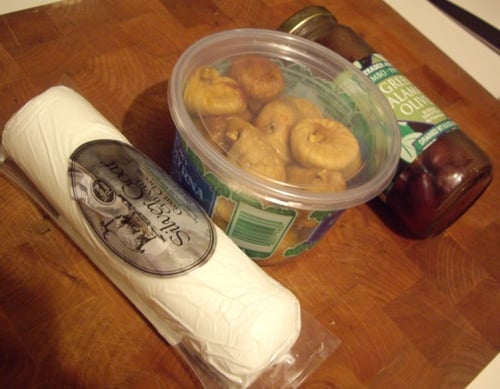 Fig Tapenade and Goat Cheese Amuse-Bouche
Adapted From Bon Appétit
Ingredients
1 cup chopped stemmed dried Calimyrna figs
1/3 cup water
1/3 cup chopped pitted kalamata olives or other brine-cured black olives
2 tablespoons extra-virgin olive oil
1 tablespoon balsamic vinegar
1 tablespoon drained capers, chopped
1 1/2 teaspoons chopped fresh thyme
3-4 ounces logs soft fresh goat cheese
1/2 cup toasted walnut halves
1-2 boxes of crackers or 1-2 baguettes cut in rounds and toasted
Fresh thyme sprigs (optional)
Directions
Preheat oven to 350. Place walnuts on a cookie sheet. Bake for 8-12 minutes or until fragrant. Watch closely as they can burn quickly.
Combine chopped figs and 1/3 cup water in heavy medium saucepan. Cook over medium-high heat until liquid evaporates and figs are soft, about 7 minutes. Transfer to medium bowl.
Mix in olives, olive oil, balsamic vinegar, capers, and chopped thyme. Use a hand mixer to better incorporate all ingredients. Season tapenade to taste with salt and pepper. (Can be made 3 days ahead. Cover and refrigerate. Bring to room temperature before serving.)
Arrange crackers and top with 1 1/2 teaspoon goat cheese and 1 teaspoon of tapenade. Garnish with walnut halves and thyme sprigs, if desired.
Makes 36-42 appetizers.
Information
Category

Appetizers, Spreads