Celebrate World Pasta Day With Orecchiette When I learned that today is World Pasta Day, my imagination began to run wild. What should I make to celebrate? The options were endless: baked ziti; pasta alla norma; linguine with white clam sauce. What to do?
Then I came across the perfect recipe. It completely rises to the occasion: it's everyday but also gourmet, somewhat healthy yet just indulgent enough, and it epitomizes pasta as the ultimate in comfort food. To get this recipe, which also happens to be quick and easy,
.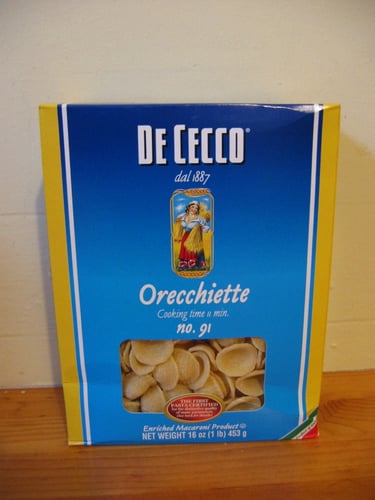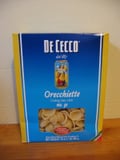 Ingredients
1 pound dried orecchiette or other small shaped pasta
3/4 cup extra-virgin olive oil
2/3 cup Italian seasoned dried bread crumbs
Sea salt and freshly ground black pepper
1/4 cup grated Parmesan
1 cup finely chopped prosciutto
2 tablespoons chopped fresh parsley leaves
Directions
In a large pot, bring to a boil 6 quarts of salted water. Cook pasta until al dente, about 8 minutes.
Meanwhile, in a medium-sized saute pan, heat the oil until warm. Since the bread crumbs will cook quickly, you don't want to add them into a hot pan, otherwise they can burn. Add the breadcrumbs and stir constantly. Season lightly with salt and pepper since flavored bread crumbs may already have seasoning. Saute for about 2 minutes. Remove from heat and set aside.
Drain pasta in a colander. Working quickly, add pasta to the saute pan and stir to combine. Add Parmesan and the chopped prosciutto. Mix thoroughly.
Pour into large serving bowl and garnish with chopped parsley.
Serves 4.
Information
Category

Pasta, Main Dishes

Cuisine

Italian