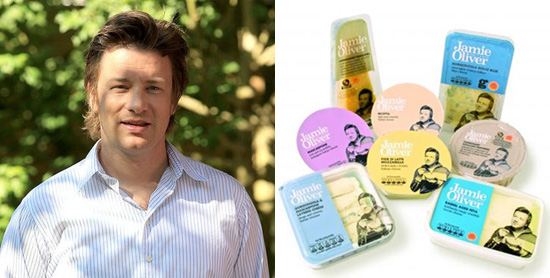 Next time you're at the grocery store, would you consider picking up a wedge of Jamie Oliver-branded cheese? That's what the UK chef is banking on. At London's International Food & Drink Expo this coming weekend, the British chef will launch the Jamie Oliver Continental Cheese Range.
The cheese line includes the likes of parmigiano-reggiano wedges aged for two years in the hills of Parma, Italy; cave-aged gorgonzola and mascarpone layered cheese from the Italian Alps; barrel aged-feta; Fior di Latte mozzarella; and tubs of ricotta and mascarpone. The cheeses will be a continuation of Oliver's existing pasta, meat, sauce, snack, and spice lines, which are available worldwide in countries from Holland to Brazil.
Looks like the food revolutionary, restaurateur, TV host, cookbook author, and media personality can add "cheesemonger" to his growing list of titles. In fact, the Naked Chef has fallen under fire from fellow UK culinary personality Marco Pierre White, who criticized him for not being a "real chef." Where do you stand? Would you buy Jamie's line of cheese products if you saw it at your local grocery store?