Celeriac Information
In Season: Celeriac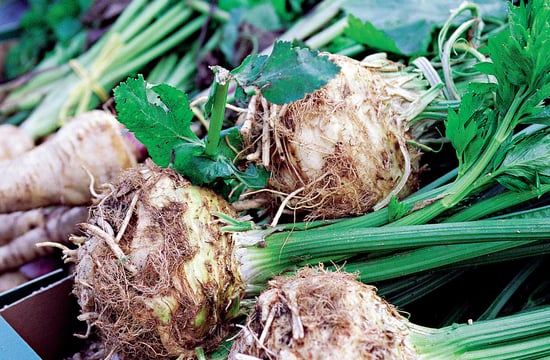 Celeriac's one of those vegetables that used to intimidate me in the produce section of the grocery store. But as it turns out, the vegetable, also known as celery root and knob celery, is nothing more than a celery plant grown for its root rather than its stems and leaves.
Originally, this root vegetable was grown in Northern Europe and around the Mediterranean; it's historically been less prevalent in the United States. Be on the lookout for it during the Fall and Winter months in specialty grocery stores, and select roots with greens that are fresh and not wilted. Alternatively, you can purchase celery seeds and grow it yourself; at home, you can remove the stalks and store in the refrigerator for one or two weeks. For ideas on how to cook with celeriac, keep reading.
Celeriac holds flavor well, and what's even neater about this root is that it's got a more intense celery flavor that can be subbed into any dish that calls for celery stalks. Prepare it as you might other root vegetables, such as turnips, or tubers like potatoes. Here are a few easy preparations:
What's your favorite use for celery root?