Celery Root Puree With Hazelnuts
Skip the Spuds in Favor of Hazelnut-Topped Celery Root Puree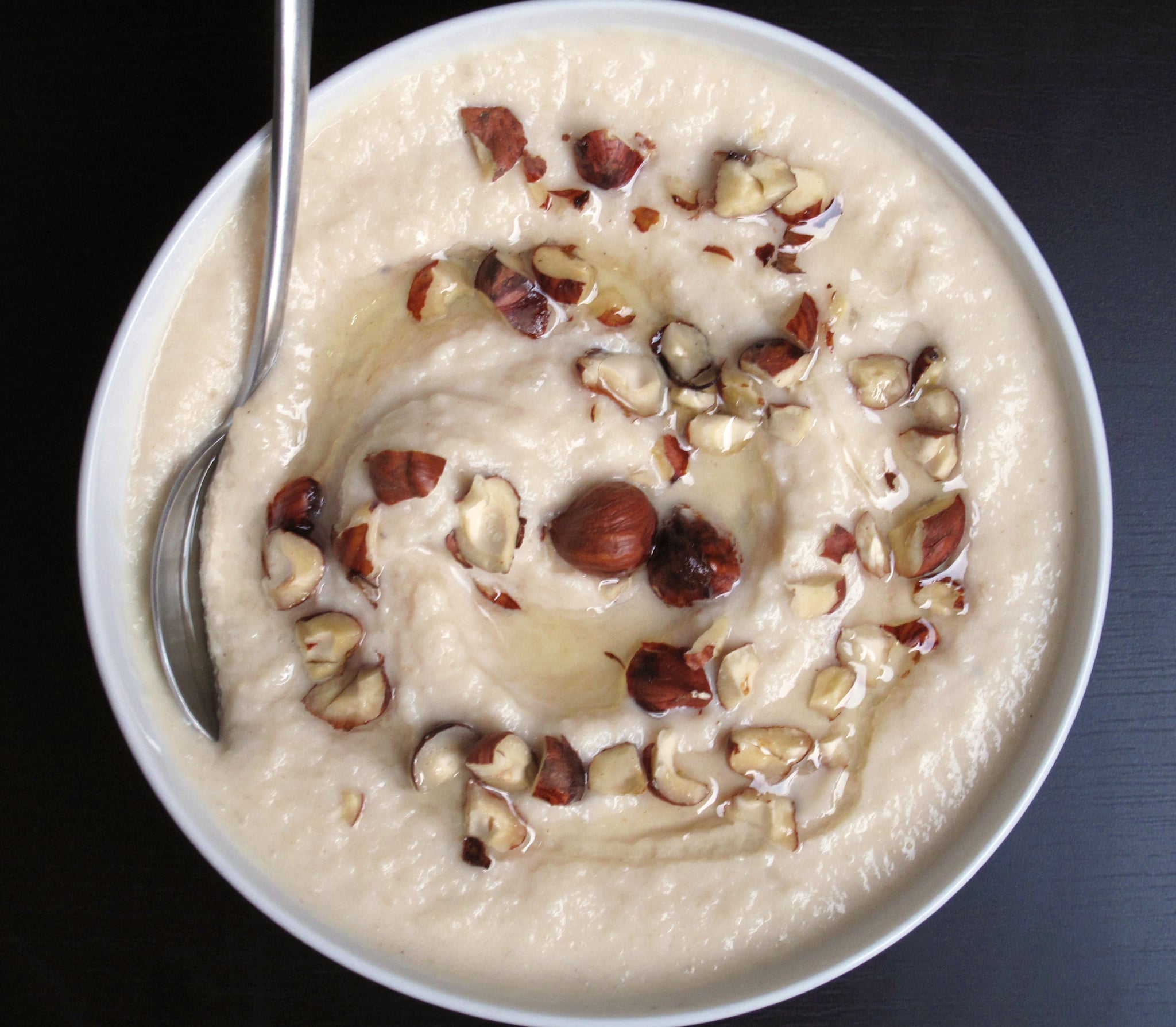 After 30 celebrations with the same turkey, mashed potatoes, stuffing, and jellied cranberries, I've decided it's time to make a change. This year, it'll be all about modernizing the traditional Turkey Day meal: think spiced curried pumpkin soup, a fluffy millet-pomegranate salad, and a spin on Southern squash casserole with California cheese and a crumbly gremolata topping. And standing in for mashed potatoes will be none other than the seasonally appropriate and wildly underrated celery root.
This edible root has an intensely bright celery flavor, which stands well on its own but even better when paired with nutty flavors. I amped up this component of the dish by taking inspiration from New York chef Michael Anthony, who purees his celery root with a buttery "burnt" milk, and Los Angeles chef Suzanne Goin, who tops her celeriac with hazelnut oil and toasted hazelnuts for crunch. The result is a stunning marriage of earthy flavors that truly speaks to the legacy of Thanksgiving. Keep reading for a new Thanksgiving side dish recipe.
Ingredients
6 cups whole milk, divided
1 tablespoon unsalted butter
2 medium shallots, finely chopped
3 cloves garlic, finely chopped
3 bulbs celery root (about 2 pounds), peeled and cut into large cubes
1 large russet potato, peeled and cut into large cubes
Kosher salt, to taste
Freshly ground pepper, to taste
2 tablespoons good-quality hazelnut oil
1/2 cup toasted hazelnuts, coarsely chopped
Directions
In a medium saucepan, bring 3 cups of milk to a simmer. Reduce the milk until it begins to caramelize and turn brown, about 45 minutes.
Meanwhile, in a large saucepan, melt the butter. Add shallots and garlic and cook over low heat until shallots are translucent, about 3 minutes. Add the celery root and russet potato and cook for 3 minutes longer, making sure they don't brown. Add remaining 3 cups of milk and simmer until the celery root is tender, about 25 minutes.
Remove both saucepans from heat. Transfer the celery root and both milks to a blender or food processor and blend until smooth. Season with salt and pepper to taste.
Serve hot, drizzled with good-quality hazelnut oil and chopped toasted hazelnuts.
Serves 8.
Information
Category

Vegetables, Side Dishes

Cuisine

North American