Central California Riesling Review
Wine of the Day: 2008 Tatomer Vandenberg Riesling
Every so often, a wine article is so compelling that the reader simply must seek out a particular bottle, however obscure it may be. This recently happened while reading a piece by wine editor Ray Isle on a small but growing community of DIY winemakers who are challenging the traditional standards of wine production in America. I looked up from the pages of my Food & Wine magazine and vowed to run out and buy his recommendation, the 2008 Tatomer Vandenberg Riesling.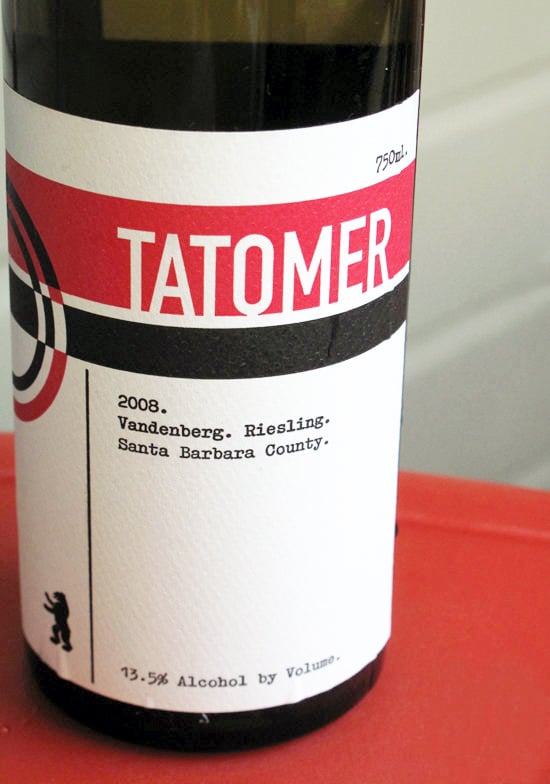 Isle described the bottle as "one of the best Rieslings I'd had all year" — a bold statement for someone who tries a lot of wine. Nonetheless, that wasn't the real reason why I was sold on sampling the Tatomer. My real motivation? The wine, a California Central Coast Riesling, was the epitome of unusual. The Golden State isn't known for Riesling, especially not the warmer, sunnier Central Coast appellation. To top it off, this wine is named after the nearby Vandenberg Air Force Base — an unlikely inspiration for a wine if I've ever heard one.
By day, Graham Tatomer makes chardonnay and pinot noir as an assistant winemaker at a local winery, but he's a Riesling fiend at night — one who was fanatical enough to start making his own version. He makes only 700 cases of wine a year, and his wines, like this $24 Riesling, are incredibly priced. (To put that production number in perspective, E & J Gallo Winery makes 70 million cases annually.)
It's easy to taste the care put into each bottle. The Vandenberg is made in the style of an Alsatian: full-bodied without any sweetness. Its floral, pear-like bouquet drew me in, but what kept me drinking was the flinty minerality that bordered on savory and a creamy texture with a bracing green apple finish.