Ceviche Recipe
Homemade Ceviche Is Fresh, Flavorful, and Fabulous Ceviche is a cool and delicious dish in which raw fish is marinated in fresh citrus juice. The acid of the juice "cooks" the fish until it is firm and plump. It's a wonderful Summer course that can be served as an appetizer with tortilla chips or placed atop a bed of greens as an entree. Although it may not be the most authentic Peruvian recipe, this is my favorite rendition of ceviche. It's packed with vibrant colors and crunchy flavors. When making any variation of ceviche, it's important to purchase the most fresh fish available. Using fish that has been previously frozen won't yield the same results. If experimenting with this scrumptious dish popular in Latin America is of interest to you, check out this rewarding recipe and
.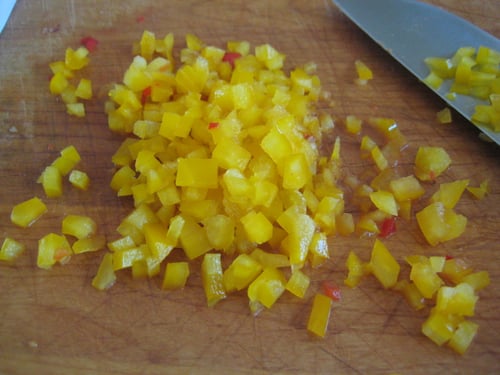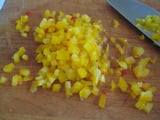 Ingredients
12 ounces very fresh (sushi-grade) white-fleshed ocean fish, such as grouper, wahoo, sea bass, or red snapper*
1/3 cup fresh lime juice
3 tablespoons fresh orange juice
3 tablespoons pineapple juice
1 1/2 tablespoons finely diced serrano pepper
2 tablespoons finely diced yellow bell pepper
2 tablespoons finely diced red bell pepper
1 1/2 tablespoons minced red onion
1 teaspoon minced garlic
2 tablespoons chopped fresh cilantro leaves
1 tablespoon good quality extra-virgin olive oil
1/2 teaspoon kosher salt
8 (3-inch) plantain chips*
Lime wedges, for serving
Directions
Cut the fish into 1/4-inch dice. Place in a glass dish with the lime juice, orange juice, pineapple juice, peppers, onions, and garlic, tossing to coat. Cover and refrigerate for 3 to 4 hours, stirring occasionally.
Add the cilantro, olive oil, and salt. Fold gently to mix. Serve ceviche in martini glasses and garnish with fried plantain chips and lime wedges.
Serves 4.
*I used halibut and chose to serve the ceviche with tortilla chips.
Information
Category

Seafood, Appetizers

Cuisine

South American