Chai Snickerdoodles
Bake — Don't Brew — These Chai Tea Snickerdoodles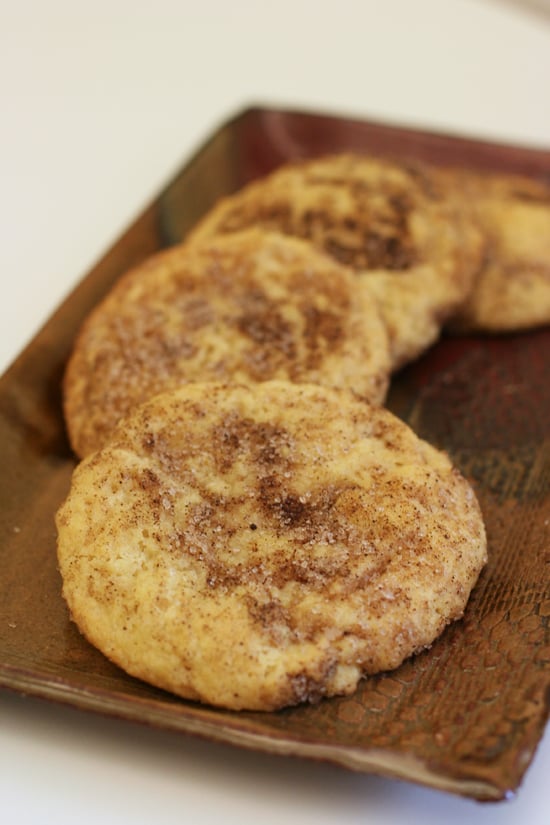 Tea-infused desserts are all the rage, and after YumSugar assistant editor Nicole made chai caramels, I felt inspired to make chai snickerdoodle cookies. Traditionally, snickerdoodles are a buttery sugar cookie, coated in cinnamon sugar. It's a childhood favorite, but I wondered how the cookie would hold up with more robust spices like ginger, cardamom, black pepper, and cloves.


As it turns out, chai in snickerdoodles is an enticing match. These cookies maintain snickerdoodle integrity with their fluffy, moist centers, and crunchy sugar-granule coating. The spices and tea are slightly tart and balance out the sweet, buttery cookie. The black-tea flavor blooms as the cookie dissolves, but get ready for the spicy black-pepper finish!
Forget about brewing tea; make a batch of tea cookies instead.
Ingredients
1 stick unsalted butter
1 stick salted butter
1 or 2 chai tea bags
2-3/4 cups all-purpose flour
2 teaspoons cream of tartar
1 teaspoon baking soda
1/4 teaspoon salt
1-1/2 cups sugar
2 eggs
1 tablespoon unsweetened powdered chai tea, such as Blue Lotus Chai
3/4 cup superfine sugar
Directions
In a double boiler, melt butter with tea bags. Remove from heat and allow tea bags to steep for 30 minutes to an hour. Place butter with teabags in fridge for several hours, until it resolidifies. Take butter out, remove tea bags, and squeeze out excess butter. Allow butter to come to room temperature.
In a large bowl, sift flour, cream of tartar, baking soda, and salt together and set aside. In a stand mixer, beat butter and sugar at medium speed for about 2 minutes, or until fluffy. Add eggs and beat until thoroughly mixed. Add flour mixture in 1/2-cup increments, beating until combined. Chill dough for an hour or overnight until it is cold and firm.
Once dough is chilled, remove from fridge and preheat oven to 400°F. Line cookie sheets with parchment paper. In a small bowl, combine 3/4 cup sugar and powdered chai. Scoop 1-inch balls and roll them in chai sugar. Space cookies 2 inches apart out on cookie sheets. Top each cookie with a little more sugar. Bake 5 minutes on one side, then rotate trays and bake another 5 minutes. Transfer the parchment paper and cookies to a wire rack to cool for 5 minutes before transferring cookies directly onto the rack. Store in an airtight container for up to a week.
Makes 3 dozen 3-inch cookies.
Notes:
While this recipe can be made in one day, make the tea-infused butter the night before, so it has time to resolidify.
Information
Category

Desserts, Cookies

Cuisine

North American