Challah Recipe
Bread Winner: Braided Challah Bread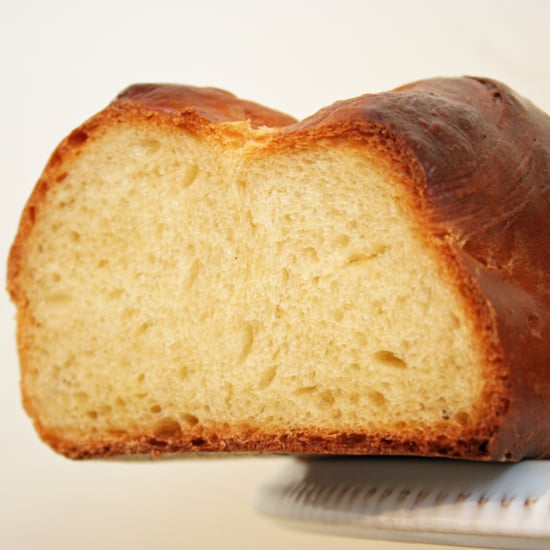 Challah is a rich, dense Jewish bread, similar to brioche. It's often served during the weekend for Sabbath meals and is famous for its plaited appearance. During high holidays like Rosh Hashanah, the braided challah may be rolled into a circular shape to signify the cycle of a year.
Making homemade challah is no easy feat — particularly the first time around, it may be a nerve-racking, less-than-pretty experience, but as long as the dough rises and it reaches the ideal temperature in the oven, you should end up with challah that has a crunchy, bright golden crust and soft, moist center.
Even though making challah dough is a several-hour-long process, it is incredibly rewarding to transform flour and yeast into fluffy balls of dough.
With practice, rolling and braiding the dough into intricate plaits will become easier. While you can top the bread with poppy seeds or sesame seeds, this recipe just contains a simple egg wash that bakes into a shiny exterior.
The recipe makes two loaves, but one is plenty for a table of five people. Feel free to half the recipe or freeze a loaf for another day.
See the challah recipe.
Basic Challah

From Anna Monette Roberts, YumSugar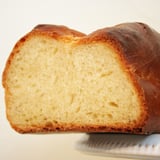 Ingredients
1 1/2 cups warm (110°F) water
2 1/4-ounce packages active dry yeast
1 tablespoon plus 1/2 cup honey
1/2 cup canola oil
5 eggs
2 tablespoons sea salt
9 cups all-purpose flour, plus more for work surface
Directions
In a large bowl of a stand mixer, combine water, yeast, and 1 tablespoon honey. Allow mixture to sit in a warm spot until yeast becomes foamy, about 10 minutes. Using a dough hook attachment, mix together oil, remaining honey, 4 eggs, and salt at medium-low speed. Mix in flour until a smooth dough has formed and dough pulls away from the sides of the bowl. If dough is too moist, mix in more flour in 1/4 cup increments until desired consistency is reached.
Lightly brush a large bowl with canola oil, and transfer dough. Cover with plastic wrap, and proof in a warm spot for 60 minutes or until dough has doubled in size. Remove plastic wrap and punch dough down with your fists. Cover again, and proof in a warm spot for another 30 minutes. During the second proofing, line two half sheet pans with nonstick baking mats or parchment paper. Preheat oven to 350°F.
After the second proofing, remove dough and transfer it to a floured work surface. Divide dough into two equal portions with a bench scraper. Use a scale for more precise measurements. Each half will make one loaf. Then divide each half into four sections, so there are eight dough pieces total.
Roll all eight pieces of dough into balls. Then roll out the dough balls into long strands of equal length and width (about one inch in diameter and one foot long). Pinch four strands together at the top and braid dough according to the pattern featured in the diagram: Take the first strand on the far right side, and place it in between the first and second strand on the left. Then take the new outermost strand on the lefthand side and place it in between the third and fourth strand. Repeat pattern until strands are too short to braid. Then press ends together and scoop under to hide any cracks.
Place braided loaves on prepared sheet pans. Beat remaining egg, then brush the wash over challah dough's exterior before placing it in the oven. Bake bread for 30-40 minutes or until dough is golden and has an internal temperature of 190°F to 205°F. (If challah begins browning too quickly, loosely cover it with foil.) Allow dough to cool on a rack completely before serving.
Makes two large loaves (each enough to serve 5).
Notes:
Combine the canola oil and honey in a liquid measuring cup. The oil will prevent the honey from sticking, so you can pour out every last drop of the ingredients.
Proof the dough near a radiator, oven, or dryer; placing it in a warm spot will make the yeast rise faster.
If a four-strand or six-strand braid seems too daunting, simply braid the challah like a traditional braid with three strands.
To make a round-shaped challah, braid the dough, then wrap and pinch the two ends together, forming a braided circle.
Information
Category

Snacks, Breads

Cuisine

Jewish