Champagne Cupcakes
Favorite New Year's Treat: Sparkling Champagne Cupcakes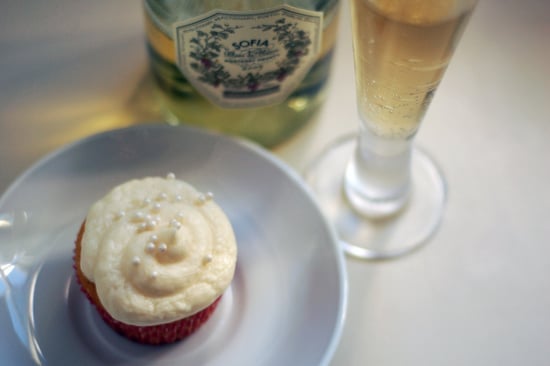 New Year's is my favorite time of year, and Champagne is my favorite drink. So it's no surprise that when I came across a recipe for Champagne cupcakes last week, I nearly jumped out of my seat with excitement. These cupcakes have Champagne in the batter, in the pastry cream filling, and in the buttercream frosting. How much more exciting can this dessert get?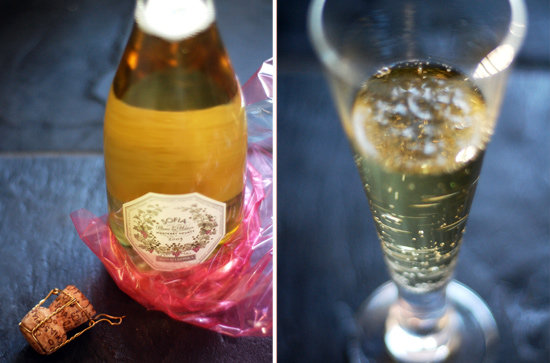 There are quite a few steps involved in this recipe, but I was able to whip up a batch in just a couple of hours. These would make an impressive addition to any New Year's party, or if you're planning a sweet night in to ring in 2015, cut the recipe in half and enjoy them yourself!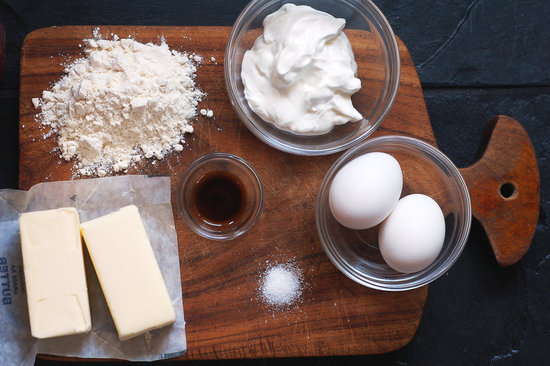 I accidentally used two sticks of butter instead of one (oops!) like the recipe calls for, but my cupcakes still turned out fluffy and delicious . . . and more fattening, of course, but it's technically still the holidays so I can justify that small mistake.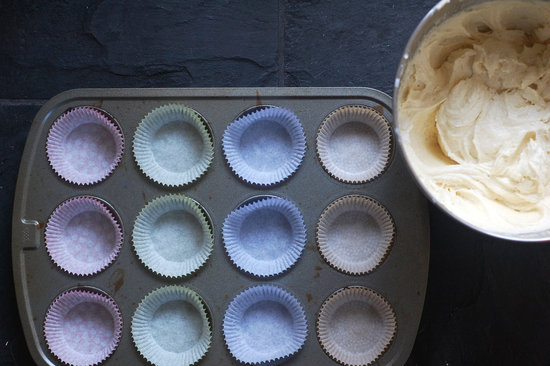 If you're like me and have never made pastry cream before, this recipe offers a great step-by-step introduction to the process. Filling the cupcakes with the cream makes them even more moist and delicious, but they also make them quite a bit richer. If you prefer a lighter cupcake, skip the pastry cream and just enjoy the cake and frosting.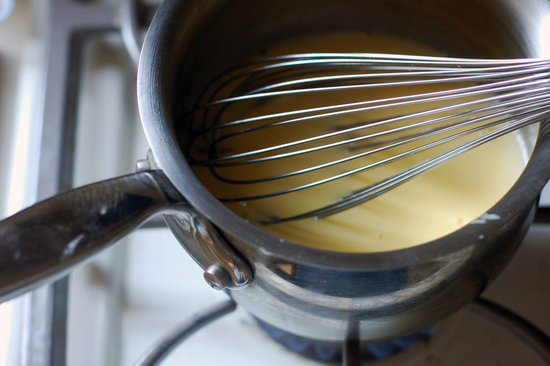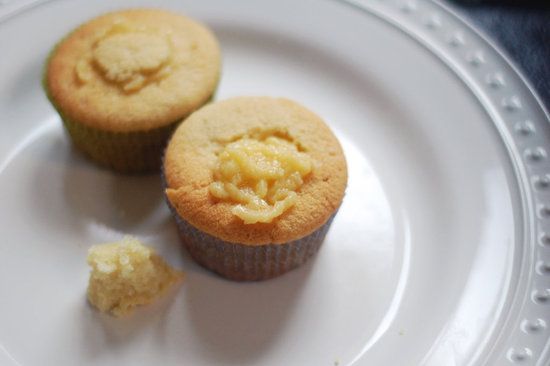 The frosting recipe calls for two tablespoons of reduced Champagne plus one tablespoon right out of the bottle, but I found that this made the frosting runnier than I would have liked, so I would suggest only using one tablespoon of reduced Champagne.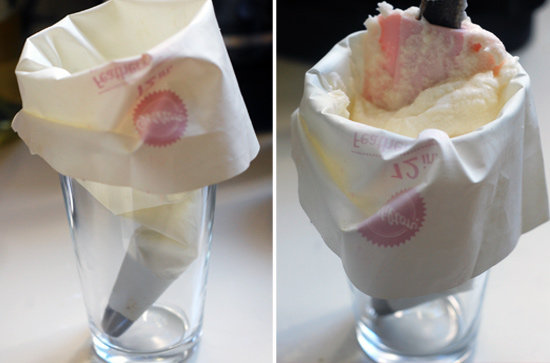 Though you can spread the frosting on the cupcakes with a knife, using a piping bag with a simple tip makes this an elegant dessert fit for any party. A tip for reducing the mess when using piping bags is to insert the tip into the bag, sit it upright in a tall drinking glass, and fold the top of the bag over the edges of the glass, as pictured above. Spoon in frosting and fold up the sides of the bag and start piping!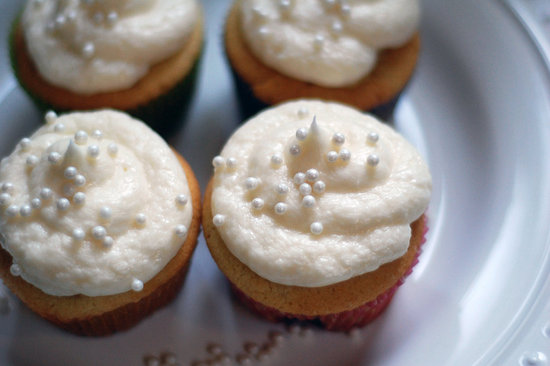 The end result is luscious and decadent. There is a slight Champagne flavor incorporated into every element of the cupcake and even though most of the booze is cooked off, you still may feel warm and tingly after enjoying one of these, just because they're so wonderful.
Ingredients
For the cake:
1/2 cup butter softened
1 cup granulated sugar
2 eggs
1 teaspoon vanilla
1-3/4 cups flour
1/2 teaspoon baking soda
1/4 teaspoon baking powder
1/4 teaspoon salt
1/2 cup sour cream
1/2 cup Champagne, prosecco, or your choice of sparkling wine
For the pastry cream:
1/2 cup heavy cream, divided
1/2 cup Champagne or prosecco
2 tablespoons cornstarch
5 tablespoons granulated sugar
1 whole egg
2 egg yolks
2 tablespoons unsalted butter
1 teaspoon vanilla
For the frosting:
1 cup plus 1 tablespoon champagne or prosecco
2 sticks of butter softened
2-1/2 cups confectioners' sugar
Pastel dragées
Directions
Make the cupcakes: Preheat oven to 350 degrees.
In the bowl of a stand mixer fitted with the paddle attachment, cream together butter and sugar until light and fluffy. Add eggs one at a time beating well after each addition. Add vanilla and mix. Whisk together flour, baking soda, baking powder and salt, set aside. In a medium sized bowl, whisk together 1/2 cup champagne and 1/2 cup sour cream (mixture will fizz and bubble a little). Add flour and Champagne mixture alternately, beginning and ending with flour. Batter will be thick.
Fill cupcake papers with 1/4 cup level measures of batter. Bake for 17-22 minutes. Set aside.
Make the pastry cream filling: In a medium bowl, whisk cornstarch in 1/4 cup of heavy cream. Combine the remaining heavy cream, sugar and 1/2 cup Champagne in a saucepan; bring to a boil then remove from heat.
Beat the whole egg and egg yolks into the cornstarch/heavy cream mixture. Pour 1/3 of boiling champagne mixture into the egg mixture, whisking constantly so the eggs do not cook. Return the remaining Champagne/heavy cream mixture to a boil. Pour in the hot egg mixture in a stream, whisking constantly until the mixture thickens. Remove from heat and beat in the butter and vanilla.
Cut a divot into the top of each cupcake and fill with pastry cream. Trim the cut-out cake pieces flat to make a "lid" and place on top of the filled divot.
Make the frosting: Place 1 cup of champagne in a small saucepan. Simmer over medium-high heat until reduced to 2 tablespoons. Transfer to a small bowl or condiment cup and allow to cool.
In the bowl of a stand mixer fitted with the whisk attachment, cream softened butter and powdered sugar together. Once the frosting is thick and fluffy, pour in the reduced 2 tablespoon Champagne plus 1 tablespoon Champagne from the bottle and mix well.
Frost the cream-filled cupcakes and decorate with pastel dragées.
Makes about 17 cupcakes.
Information
Category

Desserts, Cupcakes

Cuisine

North American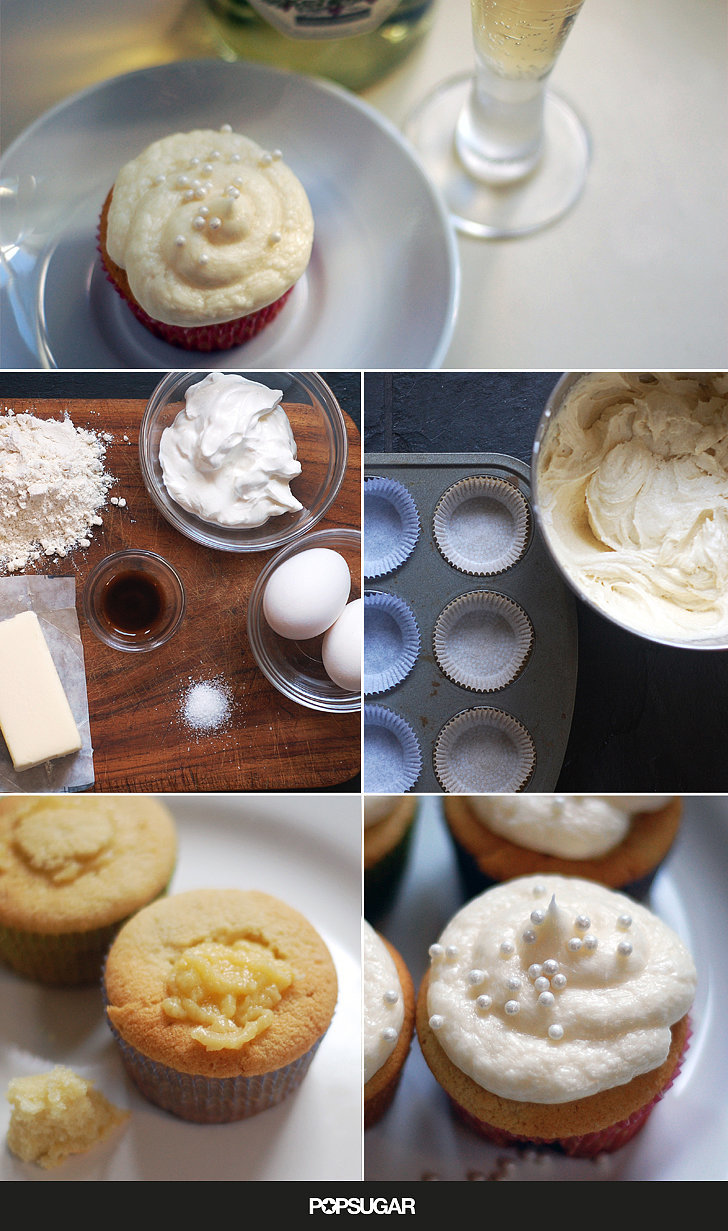 Image Source: POPSUGAR Photography / Camilla Salem