Cheese Crostini Is Easy and Delicious Appetizer If you've ever been to one of my parties, you know that I love crostini. They're my favorite appetizer and have made an appearance at virtually every event I've ever hosted. Crostini are crisp toasts topped with vegetables, meat, or cheese. I enjoy crostini because there's an endless variety of topping options; basically you can put whatever you want on them!
Although I've never come across a crostini I didn't like, I recently tasted the most sublimely simple, insanely scrumptious cheese crostini. My cousin served these heavenly bites — a combination of Parmesan, blue cheese, and garlic — at a dinner party. Don't be afraid of the blue cheese, the Parmesan cuts the pungency. To check out the recipe,
.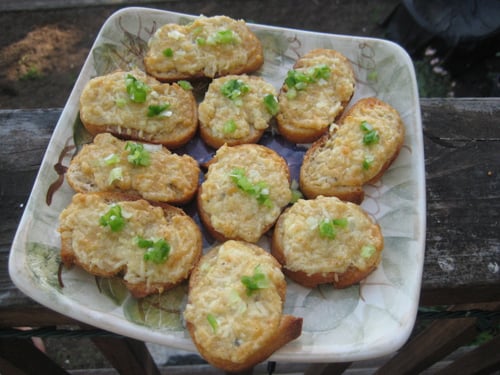 Parmesan-Blue Cheese Crostini With Green Onions
From Gourmet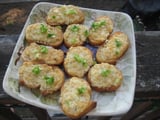 Ingredients
1 cup mayonnaise
2 large garlic cloves, minced
1/2 teaspoon ground black pepper
1/8 teaspoon cayenne pepper
1 1/2 cups freshly grated Parmesan cheese (about 5 ounces)
3/4 cup finely crumbled blue cheese (about 3 ounces)
28 1/3-inch-thick diagonal bread slices cut from 2 sourdough baguettes
Olive oil
3/4 cup finely chopped green onions
Directions
Combine mayonnaise, garlic, ground pepper, and cayenne pepper in medium bowl and whisk to blend. Mix in cheeses; season with salt. Can be made 2 days ahead. Cover and refrigerate.
Preheat oven to 400°F. Brush 1 side of each bread slice with oil. Place oiled side down on large rimmed baking sheet.
Bake bread slices until almost golden, about 5 minutes. Spread 1 generous tablespoon cheese mixture on each bread slice on sheet.
Bake until cheese topping starts to bubble and toasts are golden at edges, about 10 minutes.
Transfer toasts to large platter. Sprinkle with chopped green onions and serve warm.
Makes 28.
Information
Category

Appetizers, Crostini