Cheese Pupusa and Coleslaw Recipe
Enjoy a Piping-Hot Pupusa With Spicy Slaw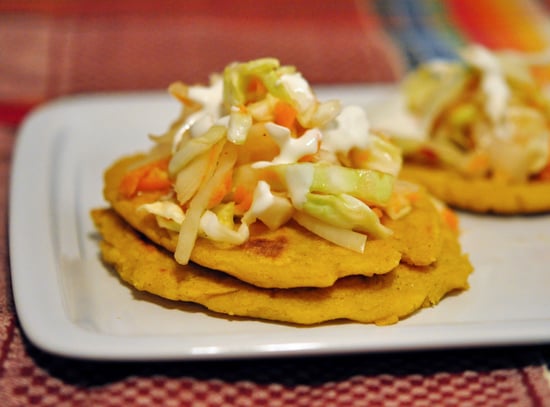 It's National Grilled Cheese Month, and while I've made my fair share with two slices of bread, I wanted to celebrate with a traditional Salvadoran dish, the pupusa. Essentially a pancake-like corn cake, pupusas are stuffed with a thin layer of cheese, beans, or pork. I was a little nervous, but preparing the masa is easy — you just add water and stir.
I tried a couple of different techniques to get the perfect pupusa and found the best way was to use my hands. I lightly oiled them, flattened the masa ball, placed the shredded cheese in the center of the masa, and pulled the edges up around the cheese. Once the masa sealed the cheese, I patted it into a small, flat disk.
With this process, the pupusa doesn't crack or let the cheese leak out while cooking. Serve these cheese-filled corn cakes hot topped with spicy slaw and a touch of sour cream. Now that I have the method down, I can't wait to make pork- and cheese-filled pupusas. To skip taco night and surprise your family with pupusas, keep reading for the recipe.
Ingredients
1⁄2 cup distilled white vinegar
3 teaspoons sugar
2 teaspoons oregano
3 chiles de árbol, crushed
1 large carrot, peeled and grated
1 yellow onion, thinly sliced
1/2 head green cabbage, shredded
Kosher salt, to taste
2 cups masa harina
1 3/4 cups water
1/4 cup canola oil
16 ounces grated Monterey jack
Directions
Combine vinegar, sugar, oregano, chiles, carrots, onions, and cabbage in a bowl. Season with salt; toss; let chill. Let the mixture sit overnight.
Put masa harina and 1 3⁄4 cups water into a bowl; stir to form a dough. Cover and place in the refrigerator for about 20-30 minutes and up to 12 hours (if you want to make it ahead of time).
Rub one teaspoon of the canola oil into your hands, so the dough doesn't stick. Using a scale to measure, pinch off 3 ounces of dough and roll it into a ball. Pat dough into a thin disk. Squeeze 3/4 ounce of cheese into a flattened disk. Press cheese into center of dough; cupping dough, stretch edges of dough up around cheese to seal the cheese inside. Pat dough to form a 3 1⁄2 inch-wide disk. Repeat to make 6-8 pupusas in all.
Heat a 12-inch nonstick skillet over medium-high heat. Working in batches, cook pupusas, turning, until golden, 5-6 minutes on each side. Serve hot with slaw and sour cream or Mexican Cream.
Makes 6-8 pupusas.
Information
Category

Cheese, Main Dishes

Cuisine

Central American
Have you ever made anything with masa? Share your experience in the YumSugar Community!