Cheese Wheel Wedding Cakes
Don't Like Wedding Cake? Serve a Cheese Cake Instead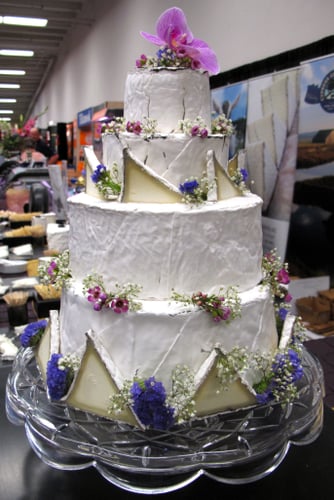 For some, savory doesn't just come before sweet in the dictionary; it also comes first in life, period.
If you belong to that segment of the population, consider doing something different at your wedding or next big bash: serve a tower of cheese instead of a traditional cake.
Depending on the size of your event, offer one that's elaborate and grandiose or smaller and more manageable.
To get started, all you need is a pretty cake stand, various-sized cheese wheels to stack, one on top of the other, and some sort of garnish. How to do it, when you keep on reading.

Order ahead to ensure you get the cheese selection and size that you want from your stockiest. Choose a wide range of cheese types, all with their wrappings removed. Allot roughly 3 to 4 ounces of cheese per guest (possibly less if you're also serving an actual cake).

Stack the cake beginning with the largest wheel, and ending with the smallest. If you're working with semisoft or washed-rind cheese, you may want to consider a circle of cardboard between each.
Add personality with a garnish. It can be edible (strawberries, dried fruits and nuts, clusters of Champagne grapes) or inedible (tea light candles, pine cones, small flowers).
Serve by taking apart the "cake," one tier at a time, and then cutting it apart and offering it with a cheese board pairing, such as marcona almonds, quince paste, or honeycomb.
Marvel in your accomplishment!
Is a tower of cheese something you'd consider for your next fete?