Cheeseburger Ideas
Beyond American: Other Cheeses to Melt on a Burger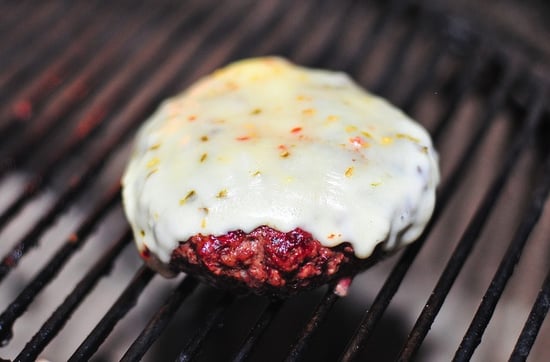 When the term "cheeseburger" is uttered, orange cheese, American or cheddar, probably comes to mind; that's what, after all, is found in every fast-food joint across the nation. But if you're making a cheeseburger at home, why not think outside the box and melt on a different kind of cheese? Here are some unexpected suggestions:
Pimento cheese: Spread a liberal tablespoon or two of the Southern condiment, which is made with cream cheese, cheddar cheese, and pimentos, on top of pork or beef burgers. It will melt onto the patty and provide the burger with a nice creaminess.
Parmesan cheese: Why not shave some of this cow's milk cheese on a burger? Parmesan would pair with a burger that's seasoned, like meatballs, and topped with tomato sauce instead of ketchup. Or, for a special crunch, bake disks of grated parmesan until brown and put the cheese crisps on the burger just before serving.
Nacho cheese: Bobby Flay's creamy nacho cheeseburger has been the talk of burger connoisseurs in years past, and even won him the people's choice award Burger Bash one year. Likewise, it'll win you raves with your family.
Keep reading for more cheesy ideas!
Brie: Fill a burger with brie and you've got a gourmet version of the Juicy Lucy!
Provolone: Add bits of pepperoni to the patty mixture before grilling it, then top with grilled provolone cheese. The flavors will mimic those found in pizza.
Manchego: This sheep's milk cheese from Spain is hard and salty, but also great for melting. Put it on top of a pork burger with roasted red peppers.
Blue cheese: The likes of Stilton, Roquefort, and Gorgonzola are utilized in high-end restaurants. Try one on a beef burger topped with sautéed mushrooms, or with a garlicky aioli.
Pepper jack: Add a fiery kick to a burger by melting on a thick layer of pepper Jack cheese.
When making cheeseburgers, what kind of cheese do you prefer?