Cheez-It-Encrusted Chicken Tenders Recipe
Sunday Dinner: Cheddar Chicken Tenders With Wilted Spinach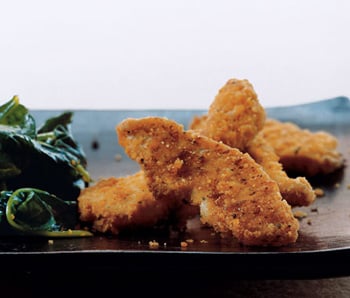 Don't forget that kid-friendly food can still be delectable for adults. Sometimes, all a meal needs is a little touch of creativity to go from mundane to mouthwatering.
For tonight's supper, try this finger food, which is fun not only for the whole family to make but to devour as well. Forgo a predictable crust of Italian breadcrumbs or panko in favor of one made from an American pantry pastime, Cheez-Its.
Serve alongside buttered, wilted spinach, and spuds, and you've got a new household favorite! Want the recipe? Keep clicking.
Cheddar Chicken Tenders With Wilted Spinach
From Gourmet
Ingredients
2 tablespoons olive oil
1 1/2 cups Cheez-It Cheddar crackers (3 oz.)
3/4 teaspoon black pepper
1 1/4 lbs. chicken tenders (not coated or cooked)
1/3 cup Dijon mustard
2 tablespoons unsalted butter
1 (12- to 16-oz.) bag baby spinach
1/4 teaspoon salt
Directions
Put oven rack in lower third of oven and preheat oven to 475 degrees F. Brush a large shallow baking pan with oil (2 tablespoons).
Pulse crackers in a food processor until finely ground, then transfer to a wide shallow bowl and stir in 1/2 teaspoon pepper. Toss tenders with mustard in a large bowl until coated, then dredge, 2 at a time, in cracker crumbs until evenly coated. Arrange tenders in 1 layer, without crowding, in oiled pan. Bake, turning over once, until golden brown, about 15 minutes total.
Meanwhile, melt butter in a 5- to 6-quart heavy pot over moderate heat, then cook spinach, covered, turning with tongs, until spinach is just wilted, about 2 minutes. Stir in salt and remaining 1/4 teaspoon pepper, then serve spinach with chicken.
Serves 4.
Information
Category

Poultry, Main Dishes

Cuisine

North American