Chef Ed Lee Interview
Chef Edward Lee on Bringing Southern Soul to Korean Food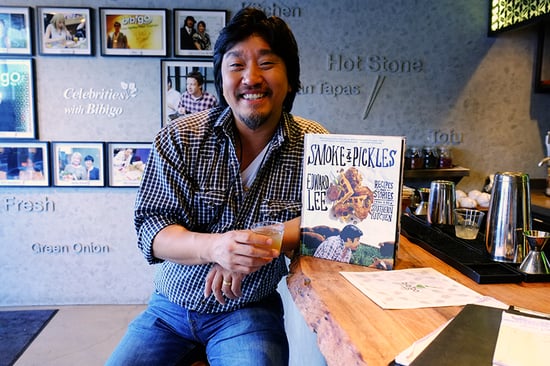 If you haven't heard of Edward Lee yet, then you're sure to soon: at his Louisville, KY, restaurants, 610 Magnolia and MilkWood, he's created his own Asian-American cuisine, suffusing Southern soul food with the spices from his Korean upbringing. He's also just released his debut cookbook, Smoke & Pickles ($30). We caught up with Lee, a Top Chef Texas alum, at his book launch in Beverly Hills, where he served up his favorite cookbook bites, revealed his unique frying technique, and gave us the inside scoop on his brand-new line of bourbon.
POPSUGAR: How did a Korean-American from Brooklyn end up with a restaurant in the South?
Edward Lee: I came to Louisville by accident. I was taking a road trip around America, and I happened to be there for the Derby. I wanted to go, but I couldn't afford it, so I asked a friend if he knew of anyone looking for help. He was like, "Oh, I know this restaurant that always needs extra help around the Derby." That's how I met the former [610 Magnolia] chef/owner Eddie Garber. He's like a curmudgeonly old man, but we just became really good friends. I spent the week there, and he let me stay on his couch and come into the restaurant and cook. That was the start of a very long friendship.
PS: Did you ever think that you'd become the owner of a Southern restaurant?
EL: At that time, Eddie was older and wanting to retire, so it was kind of perfect timing. He had been doing it for 28 years, and then I happened to fall into place. I believe in serendipity. The timing was great. The restaurant was great, and I was looking to leave New York.
PS: What attracts you to Southern cuisine?
EL: When I first moved to Louisville, I wasn't into Southern cooking. I was really just looking to do my own food, but the more you're surrounded by a certain region, the more you're going to be influenced by those ingredients. As I started looking around, it was really interesting. A lot of the [Korean] food I grew up eating had a lot of similarities with Southern cuisine. They both feature really bold spices, barbecue, the love of pickles, and fried chicken. But it's also the way they eat, too. It's not like they have one plate of food per person. Instead, they have one large piece of protein and a lot of side dishes. It's essentially the same philosophy of food. It really got my brain to start spinning, and I've been going down that path ever since.
Keep reading for the rest of the interview and to learn more about chef Lee's unique fried chicken technique.
PS: How does your Southern Korean approach to food influence the recipes in your cookbook, Smoke & Pickles?
EL: One of the things that's really big both in Korea and in the South is fried chicken, and the adobo fried chicken is right on the cover. I kind of incorporated both cooking techniques to find a middle ground. With Korean fried chicken, you first poach or steam the chicken and then fry it very quickly. With Southern cooking, you would marinate or brine it overnight before deep-frying it. What I do is poach the chicken in vinegar to add flavor, tenderize the meat, and cook it just a little. When you deep-fry it, you don't have to leave it in there for very long. It's simple, flavorful, and easy to do at home.
PS: What other recipes are particularly worth checking out?
EL: The braised brisket. People have been making it and texting me photos, emailing me, and putting it up all over Twitter. It's an easy one to make because you can't mess it up. I think you should definitely try the roast chicken. It's very different than your typical roast chicken, but it's still easy to make.
PS: You've got a chicken-fried pork steak with ramen crust recipe. How'd you come up with that?
EL: When I was a kid, my sister and I would eat ramen straight out of the package, and now I always crave that. It's really nostalgic, so I thought, why don't I use that uncooked ramen as a breading? With a little egg wash, my chicken-fried pork steak with a ramen crust was born.
PS: That's really innovative! Is this the kind of legacy you hope to leave behind in the food world?
EL: I'm really interested in creating a vocabulary of this new wave of Asian American cuisine. As popular as Asian food is already, there's going to be an explosion of really creative interpretations. You're already seeing it with Mission Chinese Food and Pok Pok. It's food that you can only find in America, which to me is what makes it great American food. I want to be a part of that movement to help define the next steps of Asian American cuisine.
PS: And you're not just doing it with food. We heard that you also have a new bourbon in the works.
EL: Yes! One of my favorite producers is Jefferson's. We always talked about bourbon and making a new one, but nothing ever happened. So one day I was in [creator and master blender Trey Zoeller's] warehouse, and we were looking around. I said, "Wow you have so many older bourbons," but they were all in miscellaneous one-off barrels — not enough for a whole batch. So I asked him, "Why don't you blend them the way they do Cognacs?" And all of a sudden a lightbulb went off. We started coming up with our new blend. It took us a good six months of tasting with different blends before we finally came up with something that we thought was good. It should be available to purchase in July. We're just waiting on our last federal approvals.
PS: What's next for chef Edward Lee?
EL: Well you know we just opened up another restaurant, and hopefully we'll open a few more down the road. I think with the success of the book, I'm really looking for more writing opportunities. I just want to tell another story of American cuisine.
PS: Just one last question before we go. What's your biggest guilty food pleasure?
EL: If I'm driving down the street and I see a fried chicken place, I always stop. It doesn't matter if it's good or bad. The bad versions are still pretty good. My favorite place is called Indi's, back in Louisville, [KY].
— Interview by Nicole Iizuka
Photos: Nicole Iizuka