Chef Matt Accarrino's Tips For Cooking
Chef Matt Accarrino on Making the Perfect Pasta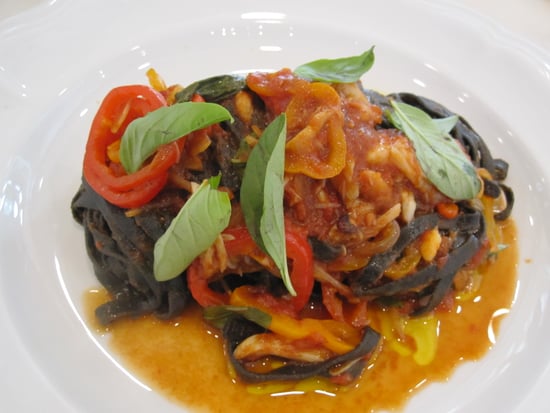 A good chef never does anything without a purpose and last weekend at SF Chefs, Matt Accarrino of SPQR wasn't shelling crab for nothing. He was teaching a small crowd how to make one of his restaurant's dishes, fresh squid ink pasta with dungeness crab, sweet peppers, and basil. While he talked us through the complex process, he provided some helpful insight into his cooking style. To see the chef's pointers, keep reading.


Never throw anything away. Accarrino used the crab shells to make a stock which he incorporated into the pasta sauce. Fresh-picked basil leaves were tossed in at the end of the plating, but the basil stems were used earlier to enhance the crab stock.

When working with squid ink (which he buys from a specialty store) to make pasta, Accarrino blends it with the eggs instead of with the flour. It's easier to break up the ink in a liquid.
Season everything: the pasta dough, the pasta water, the pasta sauce. "This is how you build flavors into food."
If you're making a stock, dry saute the base vegetables. Accarrino avoids oil because it will have to be skimmed off the stock later.
He also doesn't like to add oil to boiling pasta water. "The oil will coat the pasta and make sure the sauce doesn't stick."
The secret to rich homemade stock? Tomato paste. Accarrino adds it to his stocks.
Accarrino always cooks pasta until it's 75 percent done, then he finishes cooking it in the sauce.
Do you have a tip for perfect pasta? Share with us below!