Cherimoya Preparation and Recipes
In Season: Cherimoyas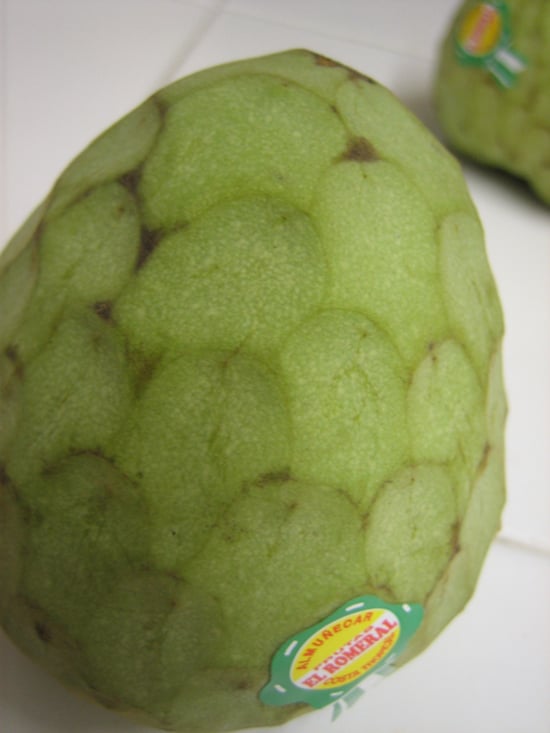 Don't be fooled by the cherimoya: though this fruit resembles a tiny dragon curled up for a nap, it's quite the opposite from a sour-tempered, fire-breathing reptile. With a texture that resembles custard or ice cream, the cherimoya surprises with a sweet flavor that tasters liken to a blend of bananas, pineapple, papaya, and strawberry. And fortunately for us, it's in season for another few weeks. To learn more about how to prepare this produce curiosity, just read on.
Preparation
Choose a heavier cherimoya whose flesh gives slightly under light pressure, much like an avocado. The flesh of the cherimoya is soft enough that once sliced in half — it's easy to just dig in with a spoon.
When prepping, make sure that you gently remove the skin and seeds by hand. The seeds are poisonous, so take care to not crush them!
Recipe Ideas
Blend the fruit into a yogurt smoothie.
Play up the sherbetlike texture by pureeing the fruit into a cherimoya lime sorbet.
Carefully slice cherimoyas and add to tarts and crumbles.
Toss the cubed fruit with cucumber, jalapeño, red onions, cilantro, and lime juice for a salsa to accompany meats and fish. Or throw into your standby guacamole recipe for a just-sweet surprise.
Source: Flickr user Nanimo