Cherry, Blue Cheese, and Almond Salad
A Cherry Salad With Campfire Flavors Sans Grill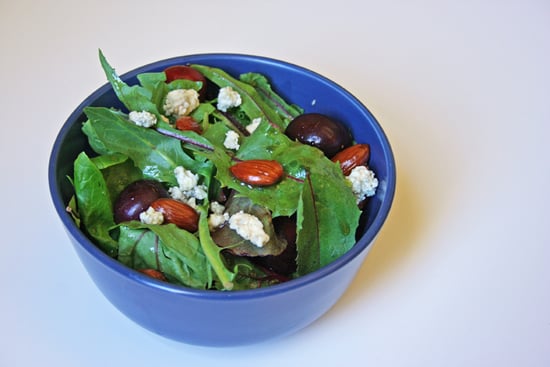 Since we're firing up the grill every day this Summer, I cannot get enough of woodsy, smoked flavors. When I worked at Greens Restaurant in San Francisco, the chef, Annie Somerville, introduced me to the unusual pairing of cherries with smoked blue cheese and almonds. Ripe, sweet cherries offset the bitterness of the greens, and the smoked blue cheese adds a creamy texture and sour punch to the salad. The almonds offer a roasted warmth and contrasting crunch to the otherwise soft ingredients.
My mother introduced me to pomegranate champagne vinegar (I use the O brand at home), and I love it for its distinct, fruity acidity. It's so flavorful, it can almost stand alone. Simply mix it with a little oil and salt, and the dressing is complete! The recipe takes five minutes, so what are you waiting for? Take a look at the cherry salad recipe.
Cherry, Smoked Blue Cheese, and Almond Salad
Adapted from Annie Somerville of Greens Restaurant
Ingredients
For dressing:
1 1/2 tablespoons pomegranate champagne vinegar
1/4 cup extra-virgin olive oil
Salt and pepper, to taste
For salad:
1 5-ounce bag mixed greens, or a blend of baby spinach and arugula
4 ounces smoked blue cheese, crumbled
1 pound cherries, pitted
1 cup smoked almonds or toasted almonds
Directions
In a small bowl, whisk together vinegar and olive oil. Add salt and pepper to taste.
In a large salad bowl, combine salad greens and toss in dressing, one tablespoon at a time until leaves are lightly coated. Toss in cheese, cherries, and almonds right before serving.
Divide salad between four plates and garnish with extra cheese, cherries, and almonds.
Serves 4 as a side salad.
Information
Category

Cheese, Salads

Cuisine

North American