Cherry Lime Rickey Recipe
Happy Hour: Cherry Lime Rickey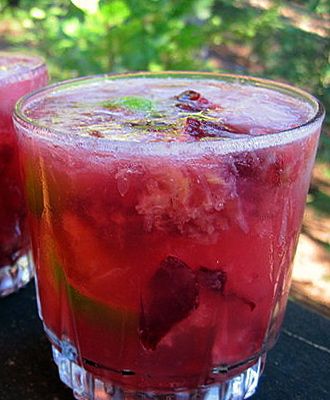 Unlike the martini or daiquiri, the rickey is a lesser-known classic cocktail with origins that date back to the 1880s. A traditional rickey consists of spirit (bourbon or gin), half of a lime squeezed and dropped into the glass, and carbonated water. This modernization of the rickey adds a delightful seasonal element to the drink: cherries. Although you could make it with bourbon, I used gin because it's lighter and more refreshing. This concoction is fruity, tart, and absolutely wonderful. Gin lovers will enjoy the perfect balance of sweet cherries, sour limes, and botanical spirit. Want to give it a try? Get the recipe.
Ingredients
6 fresh cherries, pitted
1/2 lime, cut into 3 wedges
2 teaspoons simple syrup
3 ounces gin
1 cup crushed ice
Splash of sparkling water
Directions
Put the cherries, lime, and simple syrup into the bottom of a cocktail shaker. Muddle the fruit by pressing them with a pestle or a wooden spoon until juicy and fragrant.
Add the gin and crushed ice.
Cover with a cocktail shaker and shake vigorously, or stir, until combined and chilled, about 30 seconds. In general, by the time the shaker mists up the drink is ready.
Pour the entire mixture into a large rocks glass and top with a splash of sparkling water. Serve immediately.
Makes 1 drink.
Information
Category

Drinks, Cocktails

Cuisine

North American