Chestnut Soup Recipe
It Isn't Christmas Without Chestnut Soup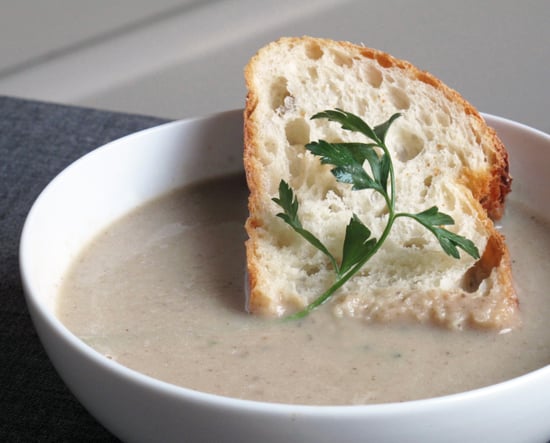 Until this month, I'd never before had or even seen chestnuts. Water chestnuts, yes — but those mythical chestnuts roasting over an open fire? Well, we'd never crossed paths.
The good news is now that I've fallen in love with their slightly waxy texture and their sweet, lingering aftertaste, I can't get enough of them. This week, I put their creaminess to good use in a sherry-and-mushroom soup, blending them in with an immersion blender for another added layer of thickness.
A satisfying bowl of this wasn't complete without a generous sprinkling of parsley for brightness, and a large hunk of country-style levain bread. Enjoy chestnuts in a new way with this recipe.
Ingredients
1 small onion, chopped
Olive oil
2 cups of mixed mushrooms, chopped
1 tablespoon sherry
Salt and pepper
1 quart of chicken or vegetable stock
1 cup canned chestnuts or fresh roasted chestnuts
1 tablespoon cream (optional)
Chopped fresh parsley, for garnish
Directions
First, sweat the onion in some olive oil; after a few minutes add the chopped mushrooms and cook on a low heat for a few minutes. Add the sherry — you should be hit by that lovely sugar waft. Season a little. Add the stock and cook on a low heat again for another 15 minutes.
Add the chestnuts and cook for another 15 minutes. Let the mixture cool a bit, then transfer to a blender and purée. Put it back in the pan — you could add a tablespoon of cream if you want. If not, toss a little chopped parsley on top, and off you go.
Serves 4.
Information
Category

Other, Soups/Stews