Chicken Breast With Goat Cheese
Fast and Easy Dinner: Chicken Breast With Goat Cheese and Basil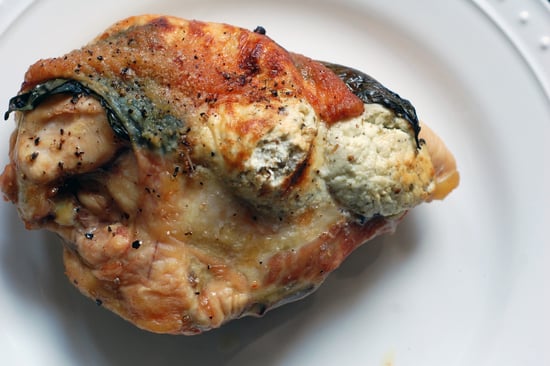 This recipe requires only a few ingredients, takes five minutes to put together, and cooks up in about about 40 minutes. It's the definition of a fast and easy meal, and also incredibly satisfying and comforting without being heavy.
Chicken breasts with the bone in and skin on are actually cheaper than boneless, skinless breasts at the grocery store (there was a $2 difference at the store!), and this recipe actually requires the skin to hold in the goat cheese and basil. The result is a moist, tender piece of meat, packed with flavor. Even if you're not the biggest fan of goat cheese on its own, know that once it's been cooked with the basil and chicken, it takes on a whole new flavor.
For this super simple recipe, keep reading!
Chicken Breast With Goat Cheese and Basil
Adapted from Ina Garten
Ingredients
2 bone-in, skin-on chicken breasts
7 ounces goat cheese
4 large basil leaves
2 tablespoons olive oil
1 1/2 teaspoons of salt
3/4 teaspoon of black pepper
Directions
Preheat the oven to 375° F.
Wash each chicken breast and pat dry with a paper towel. Place in a pyrex or ceramic baking dish.
With your fingers, loosen the skin from the meat on each breast, leaving one side attached.
Slice the goat cheese into rounds and place half of it under the skin on each breast. Place two basil leaves under the skin of each breast.
Drizzle a tablespoon of olive oil over each breast and evenly sprinkle breasts with salt and pepper.
Bake chicken breasts for 40 to 45 minutes, until cooked through.
Serve hot or at room temperature.
Serves 2-4.
Information
Category

Poultry, Main Dishes

Cuisine

North American