Chicken-Broccoli Mac and Cheese Recipe
Fast & Easy Dinner: Chicken-Broccoli Mac and Cheese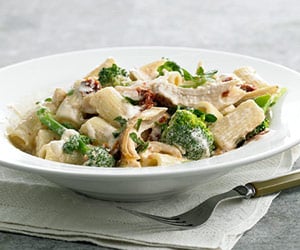 When I think of classic macaroni and cheese, I always consider it a comforting side dish. However, I love recipes like this one that turn the childhood favorite into an entire meal. Store-bought roast chicken is tossed with broccoli and pasta. Instead of using processed cheese, the ingredient list calls for a semi-soft cheese with garlic and herbs. You could use cream cheese, but I recommend goat cheese. It will provide a delightful richness and tang to the meal.
To get the uncomplicated recipe that's sure to be a hit with kids,
.
Chicken-Broccoli Mac and Cheese
Ingredients
8 oz. dried rigatoni
2 cups fresh broccoli florets
1 2 to 2-1/4 lb. whole roasted chicken
1 5.2-oz. pkg. semisoft cheese with garlic and fine herbs
3/4 to 1 cup milk
1/4 cup oil-packed sun-dried tomatoes, drained and snipped
1/4 teaspoon freshly ground black pepper
Fresh Italian (flat-leaf) parsley, optional
Directions
In large saucepan cook pasta according to package directions, adding broccoli florets during the last 3 minutes of cooking time.
While pasta is cooking, remove meat from roasted chicken. Coarsely chop chicken. Drain pasta and broccoli; set aside.
In same saucepan combine cheese, the 34 cup milk, tomatoes, and freshly ground black pepper. Cook and stir until cheese is melted.
Add pasta mixture and chicken. Heat through. If necessary, thin with additional milk. Sprinkle fresh parsley.
Serves 4.
Information
Category

Pasta, Main Dishes

Cuisine

North American