Chicken Enchiladas Two Ways — Beginner and Expert Can't make your way to Mexico? Take a hiatus with a Monterrey-inspired meal. While the basic chicken enchilada recipe calls for salsa verde, which often already includes roasted poblano chiles, the second recipe requires roasting the peppers yourself. Don't be intimidated by the task —it's as simple as holding the poblanos for a few minutes over a flame and then peeling off the charred skin — but this roasting technique adds another complex layer of flavor to an already delicious dish. To get both recipes,
.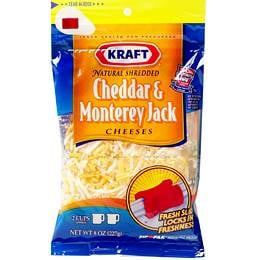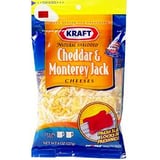 Ingredients
8 soft corn tortillas
Filling
3 cups chicken broth
4 pieces boneless skinless chicken breast, 6 to 8 ounces
1 bay leaf, fresh or dried
2 sprigs fresh oregano
1 small onion, quartered
2 tablespoons tomato paste
1 teaspoon chili powder, 1/3 palm full
1 teaspoon ground cumin
Salt
Sauce
2 cups tomato sauce
2 teaspoons hot cayenne pepper sauce, several drops
1/4 teaspoon ground cinnamon, 2 pinches
1 teaspoon chili powder
2 1/2 cups shredded Monterey Jack
Directions
Preheat the oven to 275°F.
Wrap corn tortillas in foil and warm in the oven.
Bring broth to a boil in a sauté pan. Set chicken into broth with bay and oregano and onion.
Return to a boil, cover and reduce heat to simmer. Poach chicken in broth 10 minutes.
Remove chicken breasts to a bowl and shred with 2 forks. Add 1/2 cup of cooking liquid and tomato paste, spices and salt and work through the chicken using the forks.
Combine all sauce ingredients and heat through, keeping warm until needed.
Remove tortillas from oven and switch broiler on high.
Pile chicken mixture into warm corn tortillas and roll.
Line casserole or baking dish with enchiladas, seam side down.
Pour hot tomato sauce over the chicken enchiladas and top with cheese. Place in enchiladas in hot oven 6 inches from broiler and broil 5 minutes to melt cheese and set enchiladas.
Serves 4.
Information
Category

Poultry, Main Dishes

Cuisine

Mexican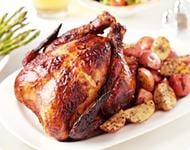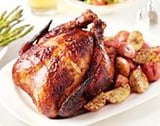 Ingredients
2 poblano chiles (8 ounces total)
6 tablespoons vegetable oil, divided
12 (5- to 6-inch-diameter) corn tortillas
4 cups salsa verde, divided
2 cups shredded roasted chicken, divided
3/4 cup sour cream, stirred to loosen, divided
6 oz (1 1/2 cups packed) grated Emmentaler, Muenster, or Mexican Chihuahua cheese
3 tablespoons chopped fresh cilantro
Pickled red onions
Directions
Char chiles directly over gas flame or in broiler until blackened all over. Enclose in paper bag; let stand 10 minutes. Peel and seed, then cut into 2x1/2-inch strips.
Preheat oven to 375°F. Heat 2 tablespoons oil in medium skillet over medium heat. Add 1 tortilla to skillet; cook until slightly softened, about 15 seconds per side, turning with tongs. Transfer tortilla to paper towels to drain. Repeat with remaining tortillas, adding oil to skillet as needed.
Spread 1/2 cup salsa over bottom of 8x8x2-inch glass baking dish. Arrange 4 tortillas over salsa, covering bottom of dish completely, overlapping slightly, and extending about 1 1/2 inches up sides of dish. Scatter 1 cup chicken over tortillas, then half of poblano strips. Spoon 1 1/2 cups salsa over, spreading evenly. Spoon 1/4 cup sour cream over in small dollops. Cover with 4 tortillas, overlapping slightly. Layer with remaining 1 cup chicken, remaining poblanos, 1 cup salsa, and 1/4 cup sour cream. Cover with remaining 4 tortillas, then 1 cup salsa, and remaining 1/4 cup sour cream. Sprinkle with cheese.
Bake casserole until bubbling and cheese is lightly browned, about 35 minutes.
Cut into 6 pieces; divide among plates. Sprinkle with cilantro. Spoon pickled red onions alongside.
Serves 6.
Information
Category

Poultry, Main Dishes

Cuisine

Mexican