Chicken With Grapes and Goat Cheese Recipe
Fast & Easy Dinner: Chicken With Grapes and Goat Cheese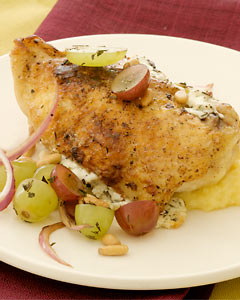 The next time you crave roast chicken but don't have time to bake an entire bird, select bone-in chicken breast halves instead. This juicy cut cooks in half the time, about 30 minutes. For a super flavorful preparation, follow this recipe which stuffs the chicken skin with a goat cheese mixture. The ingredient list calls for dried herbs, however, if you've got fresh mint and thyme on hand, why not use them? A combination of red and green grapes makes for a colorful and juicy sauce. It's a simple, effortless meal that's absolutely scrumptious, so consider it for an impromptu Friday night dinner party. Read the technique after the break.


Chicken With Grapes and Goat Cheese
From The Nest
Ingredients
6 ounces goat cheese, softened
1 1/2 teaspoons dried mint, divided
1 1/2 teaspoons dried thyme, divided
4 small bone-in chicken breast halves (about 6 ounces each)
1 teaspoon salt
1 teaspoon freshly ground black pepper
1/4 cup olive oil
2 cups red and green grapes, halved
1/2 small red onion, thinly sliced
1/4 cup balsamic vinegar
2-4 tablespoons pine nuts, toasted
Directions
Preheat oven to 400 degrees. Mix goat cheese and 1/2 teaspoon each of the mint and the thyme in small bowl until well blended. Divide mixture into 4 equal portions.
Carefully loosen the skin from the chicken breast with your fingers, creating a pocket. Place goat cheese stuffing evenly under the skin into the pocket, taking care not to rip the skin. Season chicken with sea salt and pepper.
Heat oil in large oven proof skillet on medium heat. Add chicken, skin-side down; cook 5 to 6 minutes or until golden brown. Do not turn chicken.
Transfer skillet to oven. Bake 25 to 30 minutes or until chicken is cooked through.
Meanwhile, toss grapes, onion, vinegar, and remaining teaspoon each of mint and thyme in medium bowl. Remove chicken from skillet; keep warm. Drain oil from skillet. Add grape mixture; cook until heated through.
To serve, place a chicken breast on each plate. Spoon grape mixture over chicken. Sprinkle with pine nuts. Serve with polenta, if desired.
Serves 4.
Information
Category

Poultry, Main Dishes

Cuisine

North American