Chicken With Grilled Peaches and Arugula Recipe
Fast & Easy Dinner: Chicken With Grilled Peaches and Arugula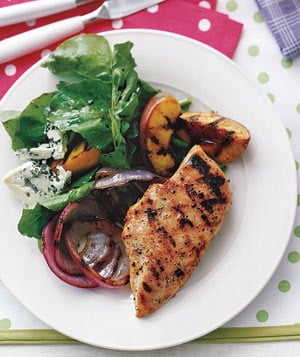 When one thinks of the grill, proteins normally come to mind. However, I like to use the smoky barbecue to impart rich flavor on everything from vegetables to cheese to fruit. By placing circles of red onions and wedges of fresh peaches onto the grates, this recipe does just that. These charred and caramelized elements are tossed with crisp greens to create a salad that's scrumptious served with grilled chicken. Since salt and pepper are the only ingredients used to season the chicken, be sure to sprinkle liberally. Enjoy this uncomplicated meal on the back porch with a glass of white wine. Sound good? Here's the recipe.


Chicken With Grilled Peaches and Arugula
From Real Simple
Ingredients
4 6-ounce boneless, skinless chicken breasts
2 tablespoons plus 1 teaspoon olive oil
kosher salt and black pepper
2 medium red onions, sliced into 1/2-inch-thick rounds
3 peaches, cut into wedges
1 bunch arugula, thick stems removed (about 4 cups)
2 tablespoons balsamic vinegar
2 ounces blue cheese, broken into pieces
Directions
Heat grill to medium-high. Brush the chicken with 1 teaspoon of the oil and season with 1/2 teaspoon each salt and pepper.
In a bowl, toss the onions, peaches, 1 tablespoon of the oil, and 1/4 teaspoon each salt and pepper.
Grill the chicken and onions until the chicken is cooked through and the onions are tender, 5 to 6 minutes per side.
Grill the peaches until charred, 2 minutes per side.
Toss the arugula with the onions, peaches, vinegar, and remaining oil. Top with the cheese; serve with the chicken.
Serves 4.
Information
Category

Poultry, Main Dishes

Cuisine

North American