Chicken Kebabs With Chickpea Salad Recipe
Fast & Easy Dinner: Chicken Kebabs With Chickpea Salad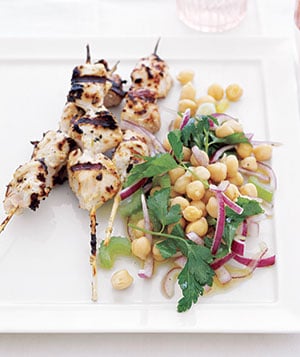 Don't be afraid of marinades that involve yogurt. The live cultures and lactic acid help tenderize the meat and ensure moistness. This version marinates chunks of chicken in a yogurt, garlic, and cumin mixture. The resulting grilled chicken is flavorful and succulent.
The recipe pairs the kebabs with a quick garbanzo bean salad, but feel free to serve the chicken with a side of your choice. Fragrant couscous with grilled vegetables or a Mediterranean-style pasta salad would work wonderfully. To kick-start your weekend with this meal, get the recipe.


Ingredients
1 cup plain yogurt
2 cloves garlic, finely chopped
1/2 teaspoon ground cumin
Kosher salt and black pepper
1 1/2 pounds boneless, skinless chicken breasts, cut into 1-inch pieces
1 15-ounce can chickpeas, rinsed and drained
1/2 red onion, thinly sliced
2 stalks celery, sliced
1 cup fresh flat-leaf parsley
2 tablespoons extra-virgin olive oil, plus more for the grill
2 teaspoons red wine vinegar
8 8-inch skewers (metal or wood)
1 cup fresh flat-leaf parsley
Directions
Heat a grill or grill pan to medium-high heat.
In a shallow baking dish, combine the yogurt, garlic, cumin, ½ teaspoon salt, and ¼ teaspoon pepper.
Thread the chicken onto the skewers and set them in the yogurt marinade, turning to coat. Refrigerate at least 10 minutes or overnight.
Meanwhile, in a large bowl, combine the chickpeas, onion, celery, parsley, oil, vinegar, ½ teaspoon salt, and ¼ teaspoon pepper.
Remove the chicken from the marinade and cook on a well-oiled grill or grill pan, turning occasionally, until cooked through, about 10 minutes. Divide the chickpea salad among individual plates and serve with the chicken.
Serves 4.
Information
Category

Poultry, Main Dishes

Cuisine

Mediterranean/Middle Eastern