Chicken Meatball and Pasta Soup Recipe
Fast & Easy Dinner: Chicken Meatball Soup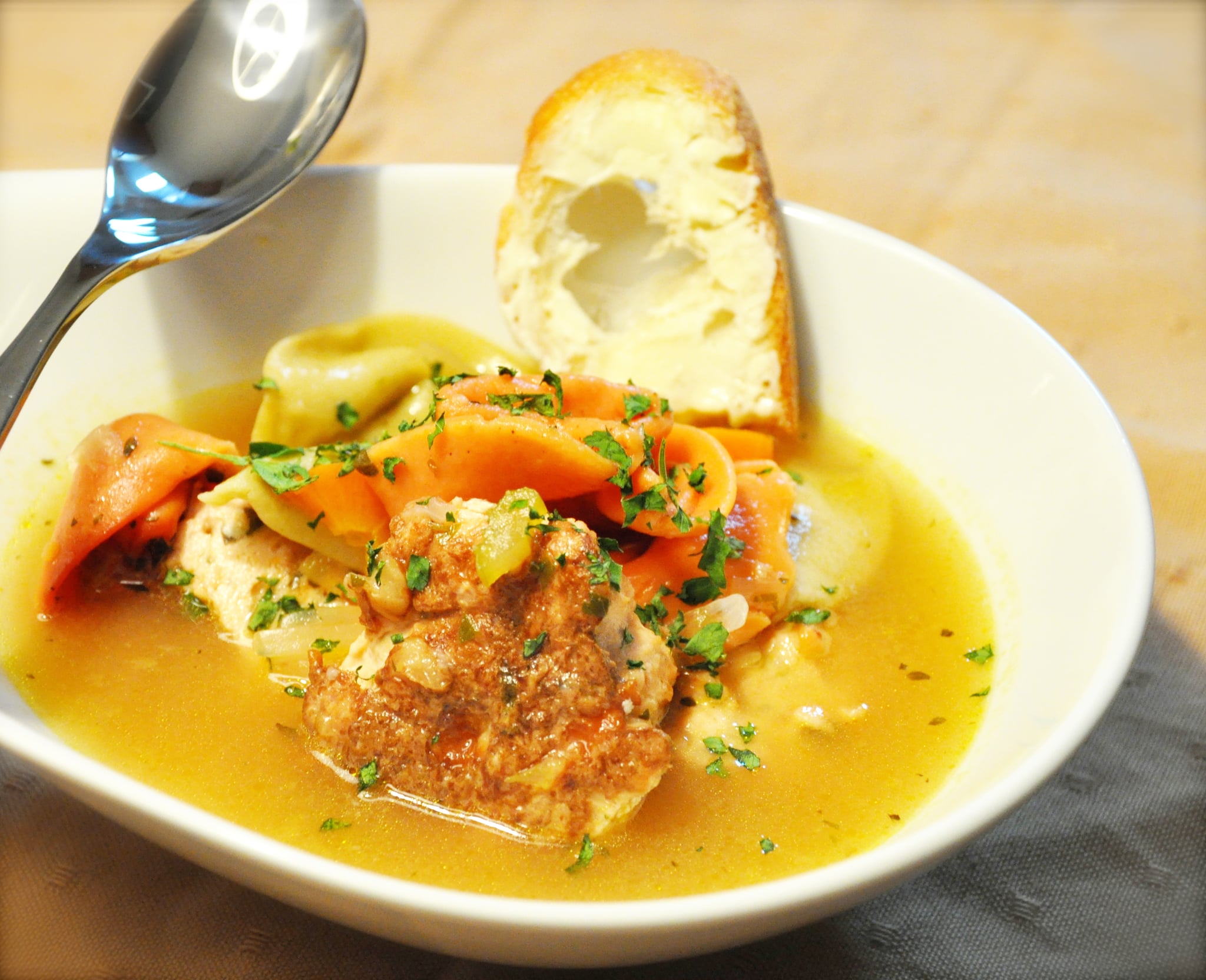 If you are trying to keep warm this Winter and have already tried these 10 essential soups, don't fret, a chicken meatball and cheese tortellini soup will soothe your soul just the same. This is a great weeknight meal since it comes together relatively quickly and takes a minimum amount of effort.
On my first go around, I made the meatballs a little too large, so next time I'll aim for a more bite-sized meatball. Fans of simple chicken noodle soup will be blown away by these chicken meatballs combined with fresh cheese tortellini and delicious broth. This soup is wonderful the night it's cooked and, like many other comfort foods, even better the next day.
Ready for a new take on the classic? Get the recipe.
Ingredients
Chicken Meatballs
4 links organic chicken-apple sausage or 1 lb ground chicken
1/2 cup fresh bread crumbs, about 2 slices fresh white bread ground up
1/2 cup whole milk
1 egg
2 tablespoon chopped fresh Italian flat leaf parsley
1/4 cup grated Parmigiano-Reggiano
Kosher salt and freshly ground pepper
Soup
Extra virgin olive oil
3 garlic cloves, peeled and smashed
4 thyme sprigs
2 large carrots, cut into circles
1 medium onion, diced
2 ribs celery, diced
Kosher salt
2 quarts reduced-sodium chicken broth
4 black peppercorns
2 tablespoons chopped fresh Italian flat leaf parsley
1 bay leaf
1 pound fresh refrigerated cheese tortellini
Fresh parsley sprigs, for garnish
1 crusty French baguette, to serve with the soup
Directions
Preheat oven to 375°F. Prepare meatballs by combining loose ground chicken meat, bread crumbs, milk, egg, parsley and the 1/4 cup parmigiano-reggiano in a large mixing bowl. Season with salt and pepper, then mix until fully combined.
Using a small ice cream scoop, make balls and set on a lipped cookie sheet. Drizzle lightly with olive oil. Roast in the preheated oven for 15 to 20 minutes, until golden brown and caramelized.
While meatballs are roasting, prepare the soup. Set a large stockpot over medium heat. Add a 2 count of olive oil (about 2 tablespoons), the garlic, and thyme. Gently saute until fragrant, about 2 minutes.
Add carrot, onion, and celery. Season with salt and cook for 5 to 7 minutes. Pour in chicken broth. Place the peppercorns and bay leaf in the cheesecloth or tea strainer and add to the stock pot. Add 2 tablespoons parsley. Bring to a boil and then reduce heat and simmer for 25 minutes.
Once meatballs are cooked, scrape them into a pot of chicken soup and add tortellini. Bring to a boil and cook for 4 to 5 minutes to allow the flavors to come together. Remove the peppercorns and bay leaf. Season with salt and pepper and serve in shallow bowls. Sprinkle with parsley. Garnish each bowl with a parsley sprig and serve with some torn pieces of crusty bread.
Serves 4 to 6.
Information
Category

Soups/Stews, Pasta/Noodle
It is soup season, so if you have a great recipe be sure to share it with the YumSugar Community. We might even feature it on our site!