Chicken Tenders With Asparagus and Pistachios Recipe
Fast & Easy Dinner: Chicken Tenders With Asparagus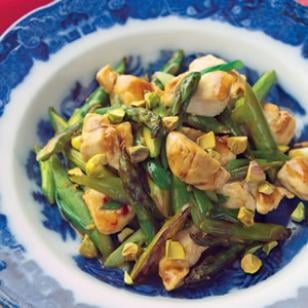 If you are in desperate need of a quick-cooking meal, pick up a pack of chicken tenders. This kid-friendly cut of meat is incredibly versatile (it can be seasoned with just about anything), and in a matter of minutes it's cooked all the way through.
Sear in a wok or other large pan with asparagus, ginger, green onions, and chili sauce for an Asian-inspired meal. Serve over rice and you've got a healthy, balanced, and flavorful dinner. Want the recipe? Read more.
Chicken Tenders With Asparagus and Pistachios
From Eating Well
Ingredients
1 tablespoon toasted sesame oil
1 1/2 pounds fresh asparagus, tough ends trimmed, cut into 1-inch pieces
1 pound chicken tenders, cut into bite-size pieces
4 scallions, trimmed and cut into 1-inch pieces
2 tablespoons minced fresh ginger
1 tablespoon oyster-flavored sauce
1 teaspoon chile-garlic sauce
1/4 cup shelled salted pistachios, coarsely chopped
Directions
Heat oil in a wok or large skillet over high heat. Add asparagus; cook, stirring, for 2 minutes.
Add chicken; cook, stirring, for 4 minutes.
Stir in scallions, ginger, oyster sauce and chile-garlic sauce; cook, stirring, until the chicken is juicy and just cooked through, 1 to 2 minutes more. Stir in pistachios and serve immediately.
Serves 4.
Information
Category

Poultry, Main Dishes

Cuisine

Other Asian