Chilled Corn and Avocado Soup
Chilled Summer Starters: Raw Avocado and Corn Soup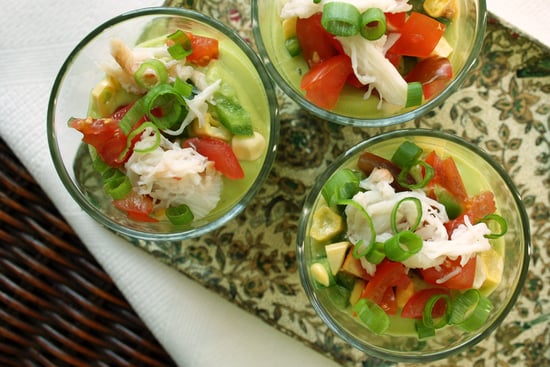 The heat wave has (sort of) made its way to San Francisco, and for the first time in longer than I can remember, I am craving fresh, raw produce. After making three batches of scones last week, I've surpassed my dairy quota and sought a way to make a creamy, satisfying chilled soup, sans cream or milk.
Summer corn is sweet and tender when eaten raw. To make use of its seasonality, I juiced corn kernels and made a milky soup starter. When blended with avocado, this soup develops a thick creaminess, plus the avocado imparts a mighty green hue. The salsa garnish provides a contrasting crunch, and the lump crab meat is a salty little bonus (however, it's also easy to leave out for vegetarians). All in all, the recipe is quick to prep and serve, keeping you and your kitchen cool when it's boiling outside. See the recipe for the chilled corn and avocado soup now.
Chilled Avocado and Corn Soup
From Anna Monette Roberts, POPSUGAR Food
Ingredients
3 large sweet ears of corn, shucked
2 large avocados, pitted and diced
1 garlic clove
1 jalapeño pepper, seeded, ribbed, and finely chopped
Juice of 1 lime
Salt, to taste
1/2 cup cherry or regular tomatoes, chopped
4 ounces lump crab meat, optional
1/2 cup green onion, chopped
Directions
Prep and juice corn kernels: Holding corn perpendicular to the cutting board, carefully cut down and through the kernels. Cut around entire cob, then use the knife's spine (the dull backside) to scrap off any leftover corn pieces and liquid. Reserve 1/2 cup corn kernels in a small bowl; set aside.
With remaining corn kernels, use a juicer to extract juice from corn kernels. Discard leftover kernel fibers.
Blend soup: In a blender, combine 1/2 cup of corn juice, garlic clove, half of diced jalapeño, and half of lime juice. Blend until smooth. Add 2 avocados with remaining corn juice and blend until smooth. If too thin, add more avocado. If too thick, add water. Salt to taste, and refrigerate until serving.
Make salsa: Combine reserved corn kernels, remaining jalapeño pepper, and tomatoes. Season with remaining lime juice and salt to taste.
Assemble: Divide chilled soup among 12 small verrine glasses (each glass should contain about 1/4 cup). Top with a heaping tablespoon of salsa. Optionally, top with 1 teaspoon crab meat. Garnish with a pinch of green onions.
Makes enough to fill 12 verrines or 4 large bowls.
Information
Category

Soups/Stews

Cuisine

North American

Yield

3 cups