Chilled Corn Soup Recipe
Soup's On: Chilled Corn Soup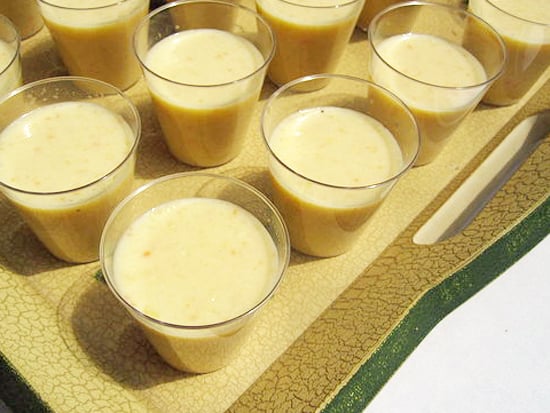 I've been to many a party where an adorable shooter of soup was on the menu as an appetizer. I love the idea, but it seems like a lot of work to refill the cups while making sure the soup is hot enough to serve — more work than I like to do at a party. However, when I hosted a recent bridal shower, I decided to give it a try with a seasonal chilled soup.
It was perfect! I made the soup two nights before the shower, so that the day of all I had to do was pour it into the plastic shot glasses. With a velvety texture and rich corn flavor, it tasted absolutely excellent. Although the original recipe called for ham hocks, I simply omitted them to make it vegetarian-friendly. To take a look at the method (I highly recommend it) read more.
Ingredients
3 1/2 cups whole milk
8 ears of fresh corn, kernels cut from cobs, cobs broken in half and reserved
4 1/2 cups water
4 tablespoons unsalted butter
1 large onion, chopped
1 large carrot, peeled, thinly sliced
1 celery stalk, thinly sliced
2 garlic cloves, minced
4 large fresh thyme sprigs
4 bay leafs
Ice
Salt and pepper to taste
Directions
Bring milk and corncob halves just to boil in large stock pot. Remove from heat, cover, and let steep while sautéing vegetables.
Melt butter in large stockpot over medium heat. Add onion; sprinkle with salt and sauté until translucent, about 5 minutes. Add corn kernels, carrot, celery, and garlic; cook until vegetables are soft, stirring frequently, about 10 minutes.
Add water, thyme, bay leaf, and milk mixture with corncobs. Increase heat and bring to boil. Cover partially, reduce heat to low, and simmer 20 minutes to blend flavors.
Cool soup slightly. Discard corncobs, herb sprigs, and bay leaf. Working in batches, puree soup in blender until very smooth. Using a fine mesh strainer, strain soup into large bowl, pressing on solids.* Season soup to taste with salt and pepper. Cool over ice water bath. Cover and chill.
Makes about 2 1/2 quarts.
*I opted not to strain mine.
Information
Category

Soups/Stews, Cream

Cuisine

North American