Chinese Chicken Salad Two Ways — Beginner and Expert When the weather warms up, I crave fresh, flavorful dishes like Chinese chicken salad. It makes a great meal because it's filling, crunchy, and delicious.
Every home cook should master a couple of basic salad recipes, and since Chinese chicken is so popular, it's a great dish to add to your repertoire.
I've found two recipes — both are straight forward, simple, and scrumptious — for you to check out so
.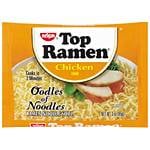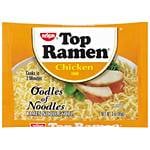 Ingredients
1/4 cup water
3 tablespoons rice wine vinegar or white wine vinegar
1 cup sesame tahini
1 tablespoon reduced-sodium soy sauce
2 teaspoons sugar
2 teaspoons finely chopped beni shoga (pickled ginger), drained, or 1 teaspoon grated fresh ginger
1 clove garlic, minced
1/8 teaspoon pepper
4 cups shredded Chinese (napa) cabbage or lettuce
2 cups shredded cooked chicken or turkey
1 cup carrots cut into julienne strips
1 cup pea pods, halved lengthwise
1 cup seeded cucumber cut into julienne strips
1 cup red sweet pepper cut into julienne strips
1/2 cup sliced green onions
1 3-ounce package low-fat ramen noodles
Directions
For dressing, in blender container or food processor bowl combine water, vinegar, tahini, soy sauce, sugar, beni shoga or ginger, garlic, and pepper. Cover and blend or process until smooth. Set aside.
In a large salad bowl toss together cabbage or lettuce, chicken or turkey, carrots, pea pods, cucumber, sweet pepper, and onions.
Remove seasoning mix from ramen noodle package; save for another use.
With hands, break noodles over salad. Pour dressing over salad and toss gently to mix. Serve immediately.
Serves 4.
Information
Category

Salads, Main Dishes

Cuisine

Chinese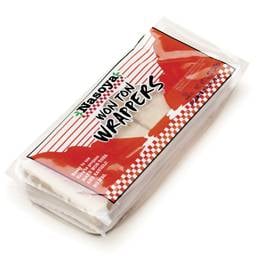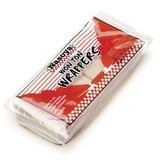 Ingredients
1 whole, bone-in chicken breast with skin (1 1/4 pounds)
4 scallions, 1 thinly sliced
One 1-inch piece of peeled fresh ginger, thinly sliced, plus 1 1/2 teaspoons finely grated ginger
Salt
3 tablespoons vegetable oil, plus more for frying
8 wonton wrappers, cut into 1/3-inch strips
3 tablespoons unseasoned rice vinegar
1 tablespoon Asian sesame oil
2 teaspoons soy sauce
Freshly ground pepper
3/4 pound baby bok choy, stems halved, leaves left whole
2 cups mizuna (1 ounce)
1 cup mung bean sprouts (3 ounces)
1 medium carrot, julienned
1 tablespoon chopped cilantro
1/4 cup chopped roasted salted peanuts
Directions
In a medium saucepan, cover the chicken breast with water and bring to a simmer over moderately high heat. Reduce the heat to low and skim.
Add the 3 whole scallions, the sliced ginger and a pinch of salt. Simmer until the chicken breast is cooked through, about 25 minutes.
Transfer the chicken to a plate and let cool to room temperature. Discard the skin and bones and shred the meat.
In a medium saucepan, heat 1/2 inch of the vegetable oil over moderately high heat until shimmering. Add a small handful of the wonton strips and fry over moderate heat until crisp and golden brown, about 10 seconds. Drain on paper towels and repeat with the remaining wonton strips.
In small bowl, whisk the rice vinegar with the sesame oil, soy sauce, grated ginger and 3 tablespoons of vegetable oil. Season with salt and pepper.
In a large bowl, toss the sliced scallion, bok choy, mizuna, bean sprouts, carrot, cilantro and peanuts. Add the chicken, wonton strips and dressing; toss and serve.
Serves 4.
Make ahead: the poached chicken breast can be refrigerated overnight. The fried wonton strips can be stored overnight at room temperature.
One Serving 386 cal, 24 gm fat, 4.0 gm sat fat, 16 gm carb, 3 gm fiber.
Information
Category

Salads, Main Dishes

Cuisine

Chinese