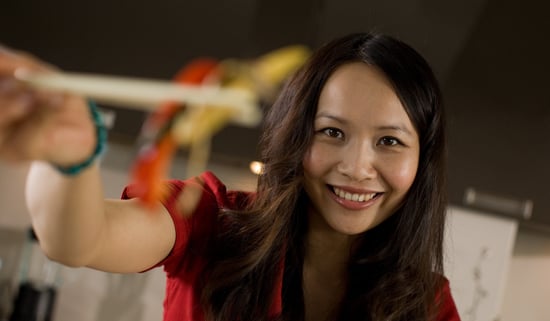 When the Cooking Channel first launched last year, I was thrilled to find that the lineup included a show called Chinese Food Made Easy — up until that point, the only Chinese cooking shows I'd seen were reruns of Martin Yan's Yan Can Cook. Its host, a fresh, upbeat face named Ching He Huang, had appeared in a slew of cooking shows in the UK, where she's widely recognized for reinventions of her favorite Chinese dishes.
Today marks the Cooking Channel premiere of Huang's second season for the show, which is now titled Easy Chinese: San Francisco. In preparation, Ching spent six weeks in the San Francisco Bay Area. I caught up with her in the heart of San Francisco's Chinatown, and in between cups of medicinal herbal tea, she shared her thoughts on why China's multifaceted flavors will be the next big thing. See more when you keep reading.
On why Chinese cuisine is superior: To me, Chinese cuisine beats French cooking any day. It's healthier, has better flavors; it's more versatile. I wish viewers knew that Chinese food can be simple yet complex. You can eat like a king every day. It's not this cheap thing. It takes skill, but once you have it down, you'll know it forever.
On Chinese food's global appeal: Chinese food unites billions of people, and it has iterations all over the world. There's British Chinese, which has original dishes like crisp aromatic duck. One place in Hong Kong specializes in Anglicized Chinese cuisine, and there's a line out the door. It can be really simple, but then again there are those imperial Chinese dishes that you probably could never master in a lifetime, or traditional Chinese medicine foods for healing. Chinese food is for everybody — it can fulfill anybody's taste.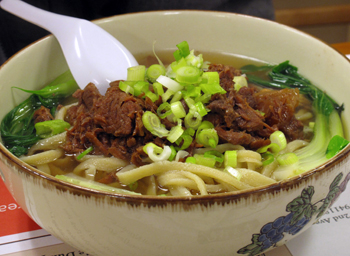 On her favorite dining destinations in Asia: I'd be hard-pressed to pick between Taipei, Beijing, Hong Kong, and Shanghai. I remember going with a local guide in Beijing to a hutong where I ate the best Northern-style chicken with snake beans. I also had this delicious Muslim-style lamb with hand-pulled noodles.
On whether Chinese food requires regional distinctions: I think that today, more people understand how complex Chinese food can be. For many, it's an adventure now, with China being opened up to more travelers. And while there are more than 34 regions in China, at the end of the day, it's all Chinese food. It's the techniques that tie it all together, and the use of the wok. You can use the wok to deep-fry, steam, braise, or even dry foods.
On eating shark's fin: Years ago, a friend took me to get the best shark's fin soup in Hong Kong. I crave it. But now I don't eat it. My [substitute] is the vegetarian version — you know, the kind with the vermicelli noodles in place of the strands of fin — but that doesn't even cut it.
On cooking Chinese cuisine as a beginner: Be patient with it; you should've seen the first time I made fried rice! My advice is to find a dish you love, and then go after mastering it. I recommend a simple stir-fry: slice carrots on an angle, and toss with trimmed French beans and grated ginger in hot oil. Season with a splash of light soy sauce, rice vinegar, a drizzle of sesame oil, and a sprinkling of sesame seeds. If you want meat, add in a slice of pork in the beginning. To make things spicy, lace it with chili oil or a teaspoon of Szechuan peppercorns. You can do a lot of variations based off of that. If I can do it, then a lot of people probably can!
Photo courtesy Cooking Channel